The Almost Lost Art of Copper Wheel Crystal Engraving
(glass engraving, glass cutting, glass cold working)
as kept alive by
James P. Riser
---
Text and images copyright 2015 by James P. Riser

Since 1975, I have been working at building up Tucson, Arizona's best equipped glass engraving facility. This web page has been designed to acquaint others with the rather rare processes. Currently I am taking a break from the engraving to create a DVD on how to build the equipment required for glass engraving and cutting. Hopefully this DVD will allow others to try their hand at the processes involved. Described and illustrated on the DVD will be several designs of both copper wheel and stone wheel glass engraving lathes.
Certain skills become a "lost art" for a variety of reasons. The main reason is, of course, that the items produced by these skills become too expensive for the general public to purchase. Copper wheel crystal engraving is such an endangered art. It requires years to master the technique. The crystal items worth the time required for the engraving process are in themselves rather expensive. Copper wheel crystal engraving is an extremely slow and precise grinding process. Various depths and abrasive grits give the engravings their sculptural three dimensional effect. There can be no erasing. It must be remembered that the engraver needs to live in this expensive world. The high cost of such engravings reflects the skill and time invested in the work. Below are shown a collection of several glass engravings that I have completed over the years. These engravings reflect my attempt to keep the art of copper wheel crystal engraving alive.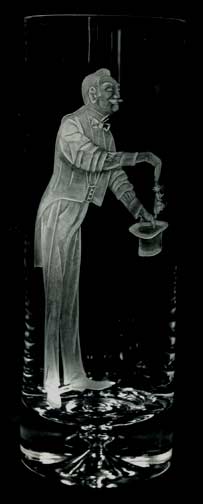 The Magician Vase was created for my own pleasure. I worked my way through college as a magician and I always liked the magician design on the place mats at the Magic Castle in Hollywood. The Magician Vase is my interpretation of that design.

The following few designs reflect my love of the Great Southwest.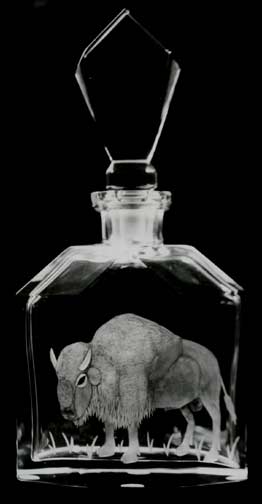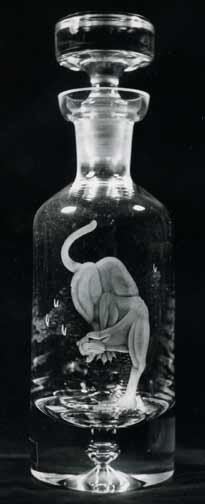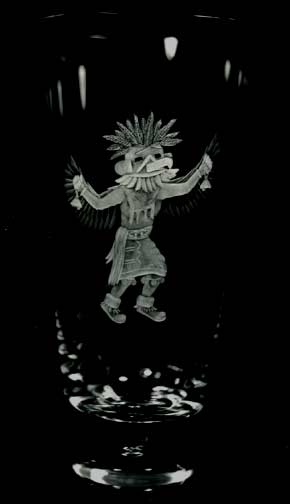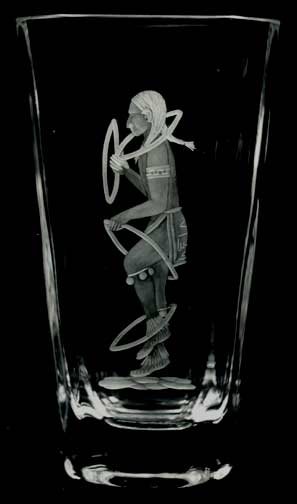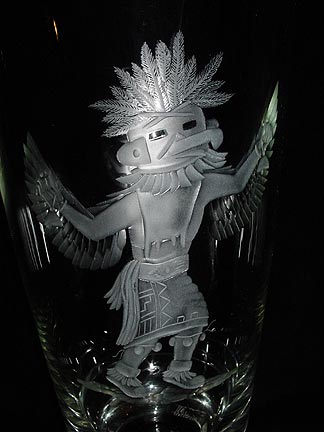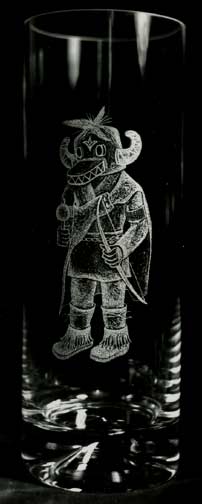 Diamond point/Copper wheel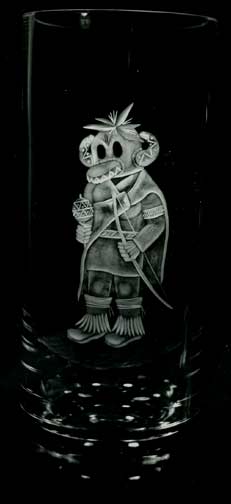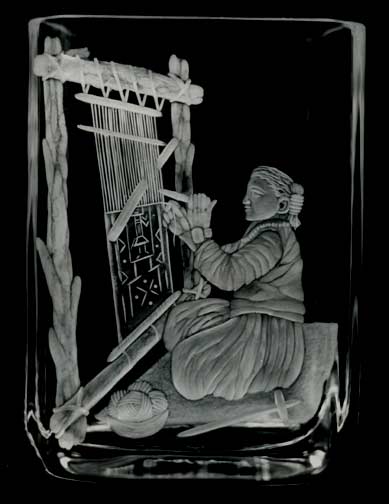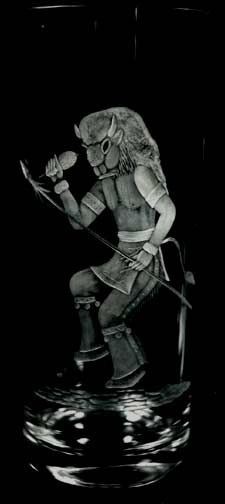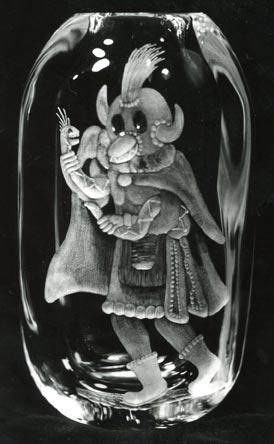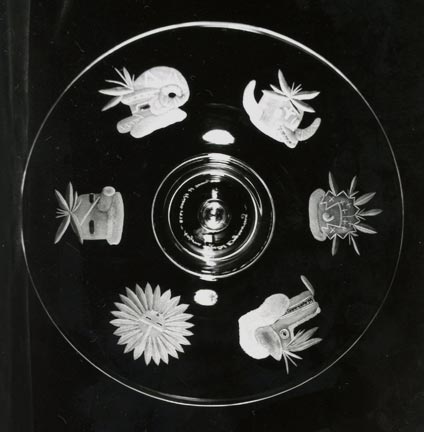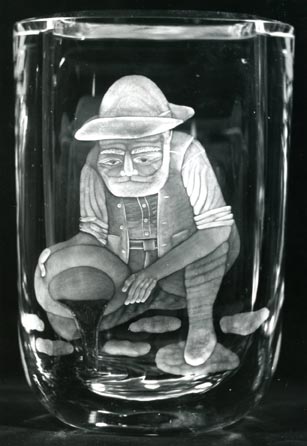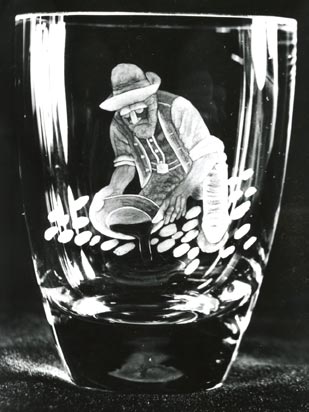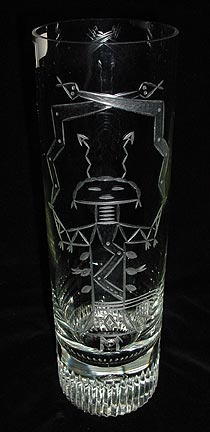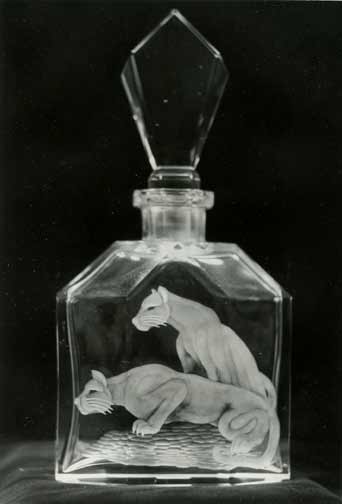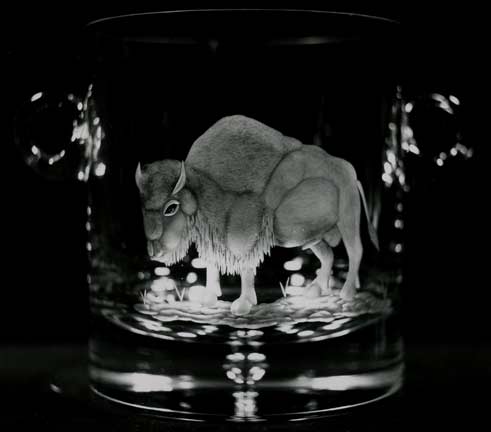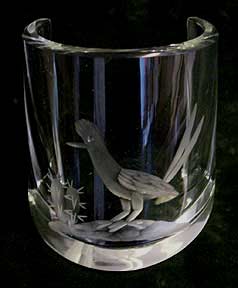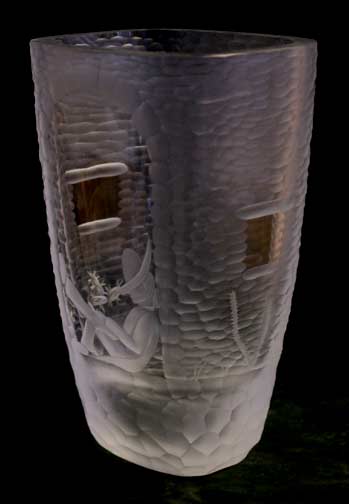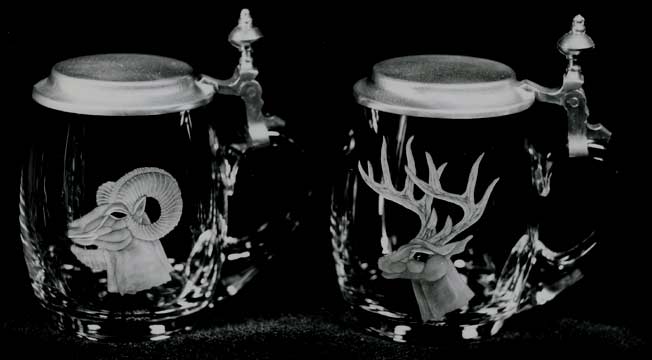 And an assortment of various subjects ...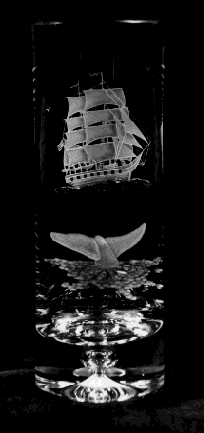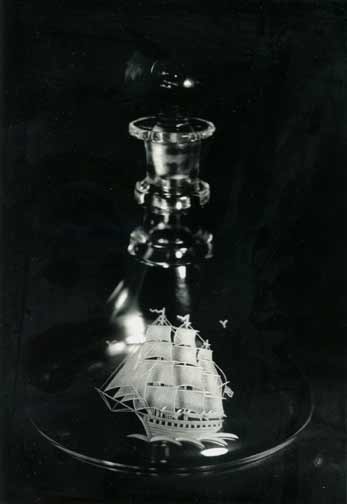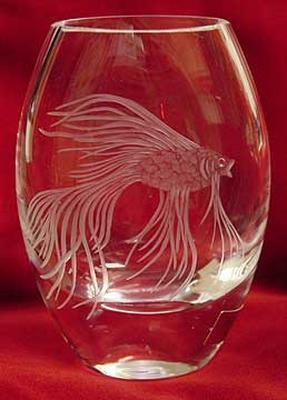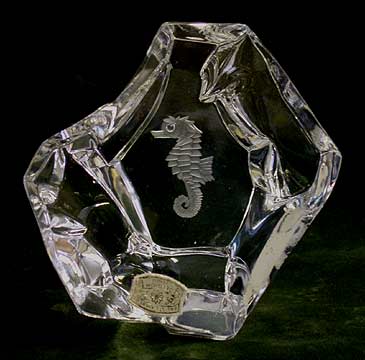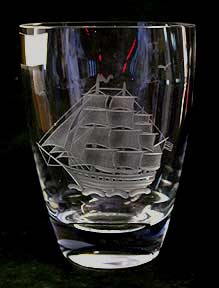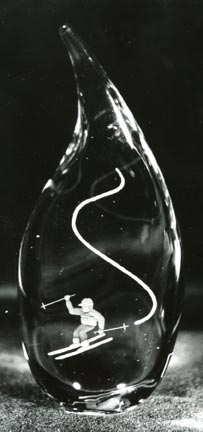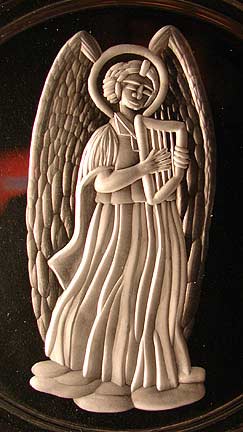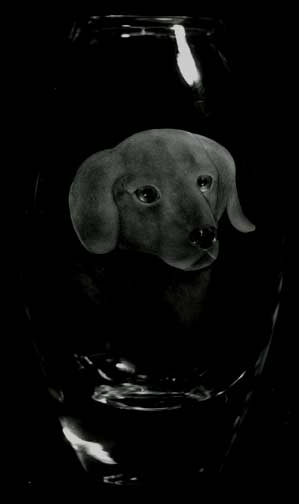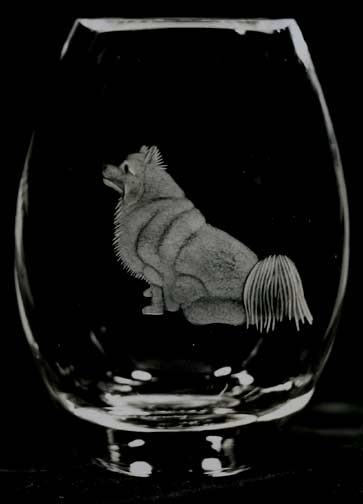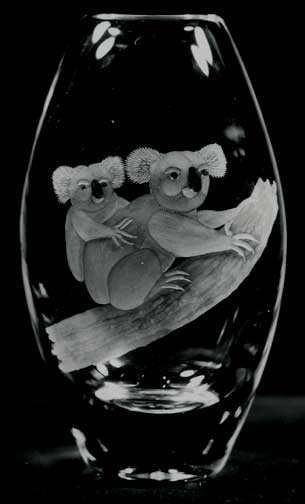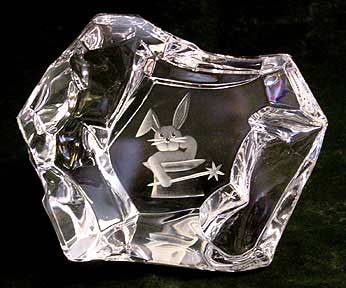 a few plants ...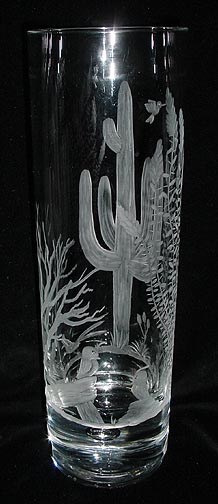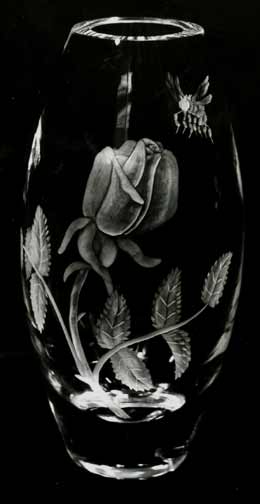 For those who have never seen glass being blown ...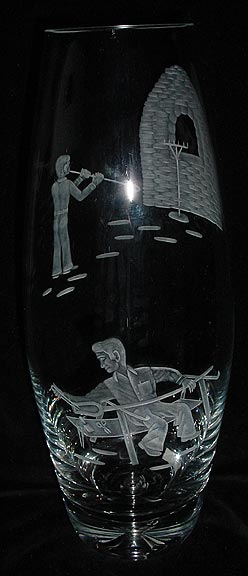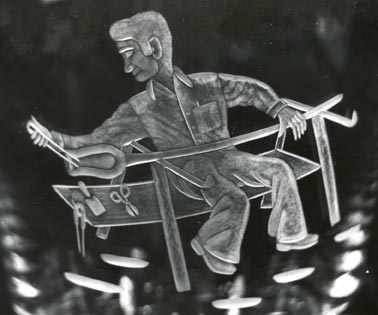 The 1850 vintage engraving lathe and the process ...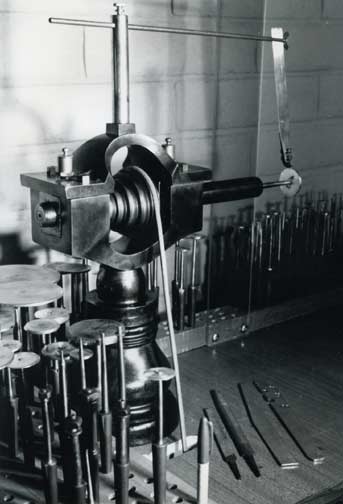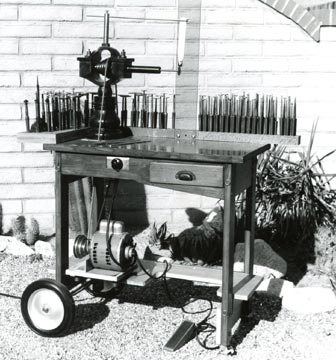 This is my first mounting of this lathe (for craft show demo work).
Here I am doing a demo at the new Goldwaters store in Las Vegas (store no longer there!) ... the current lathe mounting ...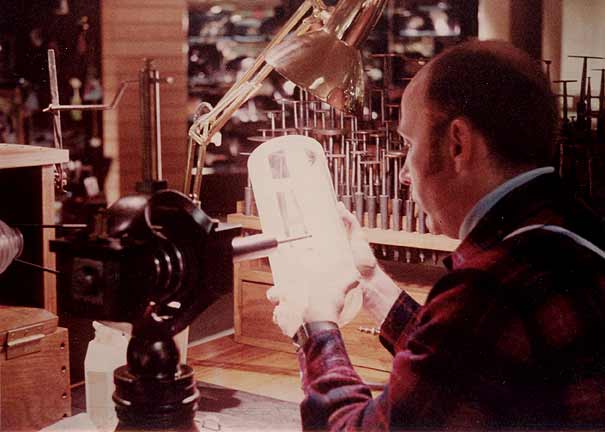 Click here for a little info about the old copper wheel lathe.
I was a lot younger when these photos were taken ...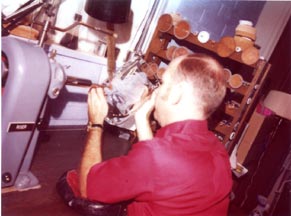 My Spazier Lathe.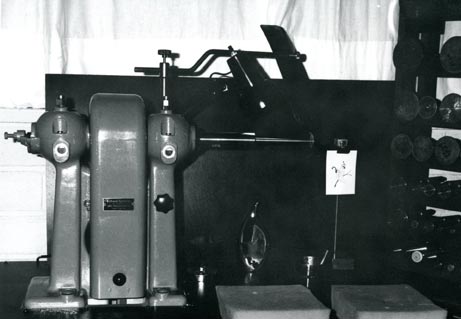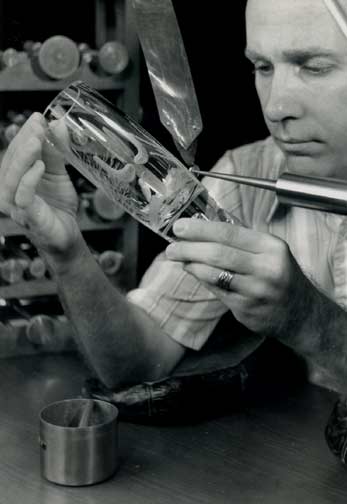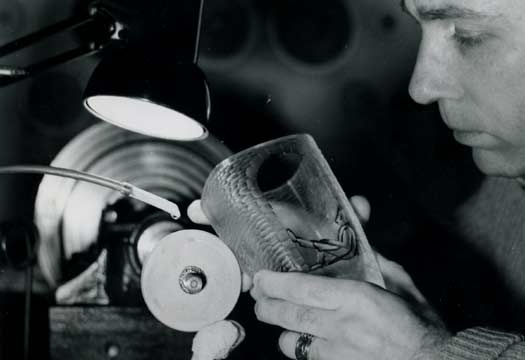 Rough cuts by stone wheel ...
glass engraving, crystal engraviTo see an old European stone wheel lathe that I am bringing back to life click here.nr wheel glass engraving, stone wheel glass engraving
To see a classic A.B. Knight lathe being restored, click here.
---
This page is ©1999-2015 by James P. Riser - all rights are reserved
Glass crystal engraving from Tucson, Arizona USA

Click here to return to the James P. Riser Home Page.