Experimental Electronic Portfolios
by
James P. Riser
---
Back in 1993 when I was developing my An Introduction to Image Processing CD-ROM, I began experimenting with using electronic portfolios to keep a record of my students and their progress. The software "front end" is a specially made HyperCard stack designed and programmed by me. HyperCard is very well suited to this particular task. The program is usable anywhere Macintosh computers are available with no additional expenses. In these electronic portfolios I am able to include images, QuickTime movies, sounds, text, and even open external applications to view student work with the creator software. Below are shown several images from an example electronic portfolio as used in my classes. These samples are reduced in size for faster downloading and have lost much detail.
Note: If there is sufficient interest, this basic software may be made available for use at other interested schools. When I retired, there was no interest in continuing this electronic portfolio project.
---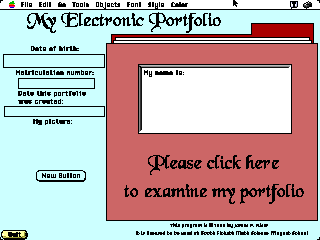 At the right is shown a "blank portfolio" start up card. There are places for students to enter their name, matriculation number, birth date, voice sample, and picture.
Below is an example of what this electronic card might look like when completed. Student images are either scanned or digitized using a digital camera or video camera/digitizer. Voice samples are recorded directly on the computer using the HyperCard sound capabilities.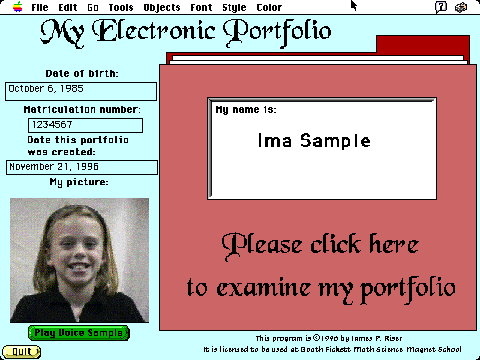 Within this portfolio are blank electronic cards for students to use as desired. Additional cards may be easily created at anytime by the students as needed by clicking on a button on the last card in the portfolio.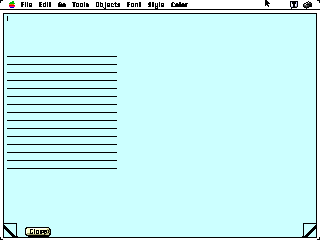 There may be cards showing school activities in which the student participated.
Home life may also be documented.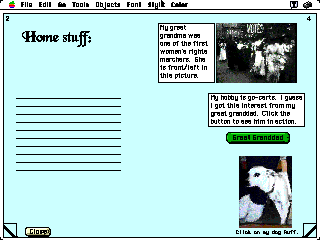 As the electronic portfolio grows, a clickable navigator palette automatically updates itself to speed up navigation within the stack. An example of this navigator palette is shown below.

The biggest problem confronting schools wishing to utilize electronic portfolios is storage space. I am currently using Zip drives. At the end of a student's stay at my school, it would be possible to permanently store student portfolios onto CD-ROM if desired.
---
Implementation of the Experimental Electronic Portfolios

Creating the original electronic portfolios is a rather daunting task. In order to simplify the task, I have trained my eighth grade students in the process of creating the portfolios.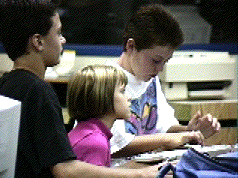 The eigth graders first of all make their own portfolios to become fully acquainted with the process. These eighth graders then make the portfolios for the young elementary students. This logistics plan will handle the setup problems for us.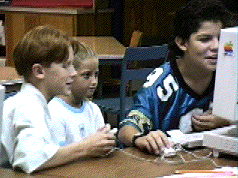 The goal is to start using electronic portfolios with our K-2nd graders.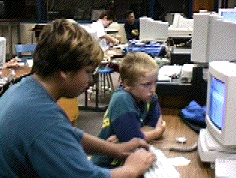 The portfolios that we create this year can travel with our students all the way through eighth grade.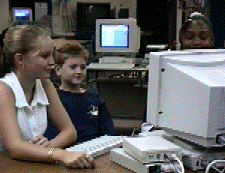 The images on this page illustrate my older students working as cross-age helpers for our younger students.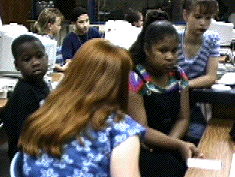 Completed portfolios are then stored on a master optical cartridge and working copies are stored on the Zip drive cartridges.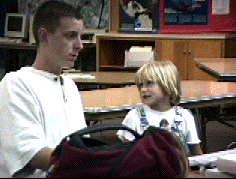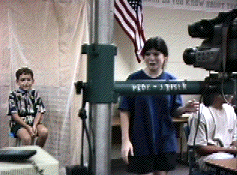 The master copy of each electronic portfolio on the optical drive is updated as needed.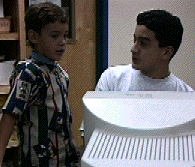 ---
All of that cool info is now lost - due to a lack of interest by school administration.