My WW Lathe Setup
Copyright 2005 by James P. Riser
---
On this page is shown the setup I have made for my WW lathe. Since everything was put together on a rather limited budget, some pieces shown are not in mint condition. But all pieces displayed here are in very good working condition. Any problems are merely cosmetic. It is the best I have been able to assemble with the funds available. This is the lathe I use for extremely fine machining of parts for the items I manufacture. This is a working machine not a display item.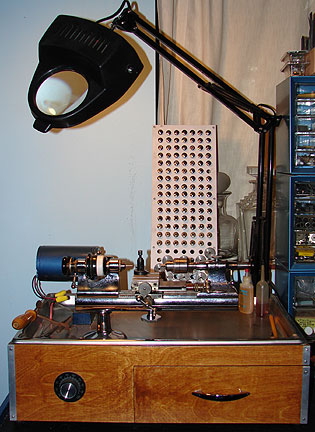 A stainless steel tray from a restaurant supply store is the chip pan - to catch chips and oil.
The hardwood base was constructed to contain extra parts as well as the motor speed control.
The whole unit may be picked up and moved as one piece, if necessary.
The magnifier lamp plugs into a hole in the wood base
Collets are readily available in the aluminum collet rack mounted on the back of the wood base.
Most extra parts for the lathe are stored in the drawer.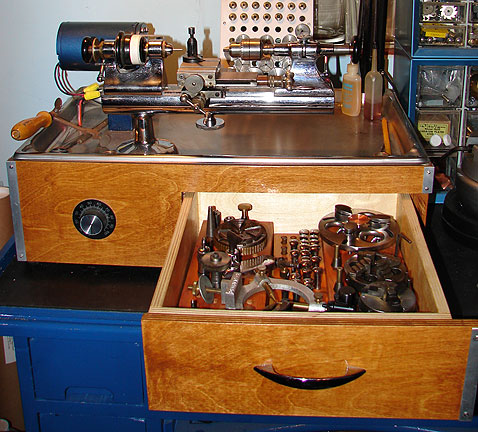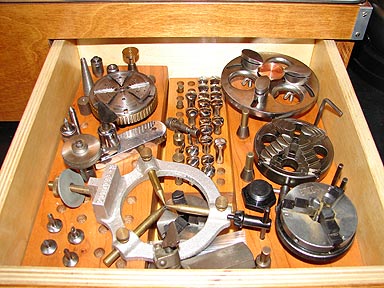 A better view inside the drawer...
Here are a few of the "extras" required for various jobs...

The wire chucks or collets...
Bezel chucks...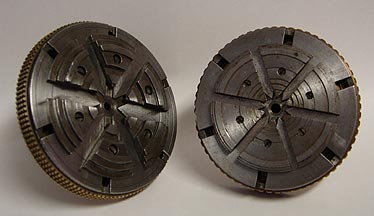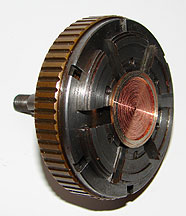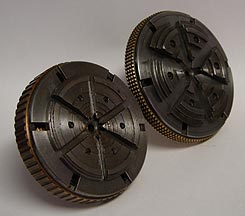 Other chucks...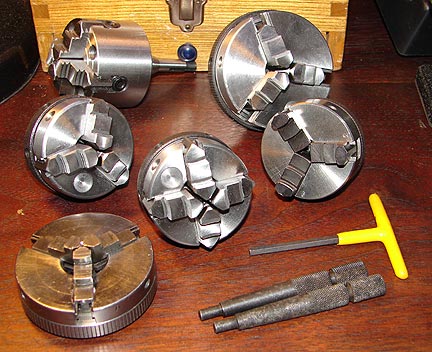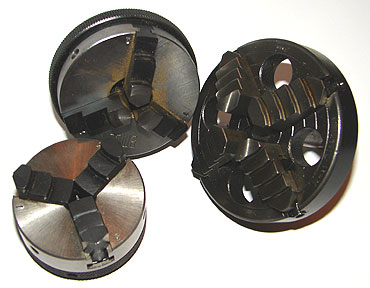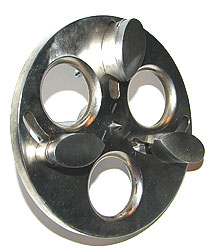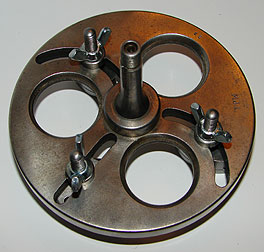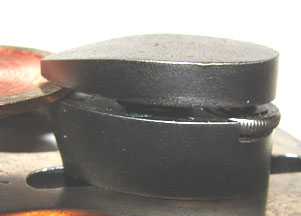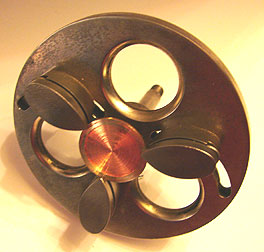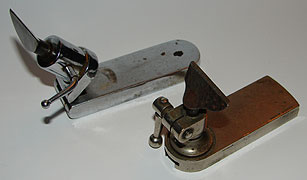 Tool rests and a steady rest...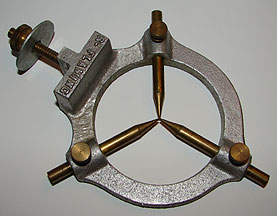 Two stage cross slides...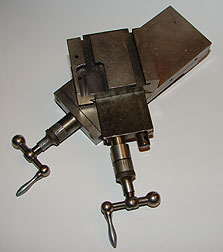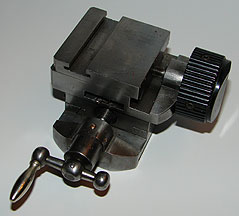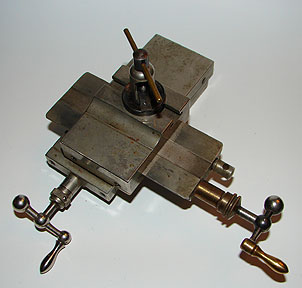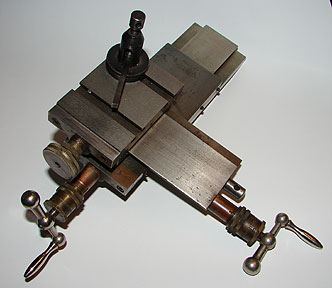 A three stage cross slide...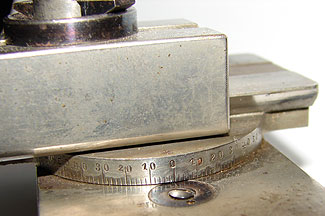 Angles are easily set...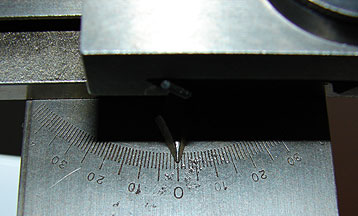 The tailstock is a collet holding model.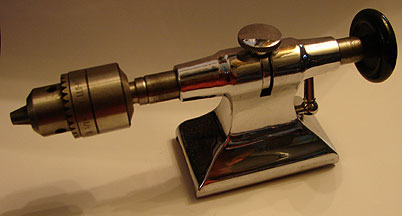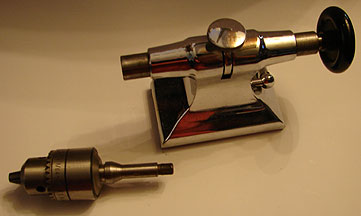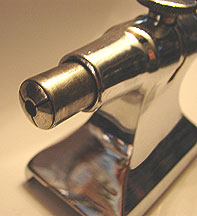 WW colets are held perfectly centered...
There are even male and female dead centers for special work...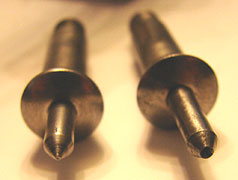 The drive system for this lathe consists of a variable speed DC motor, a controller, and a two step pulley option. This allows two speed ranges - both variable.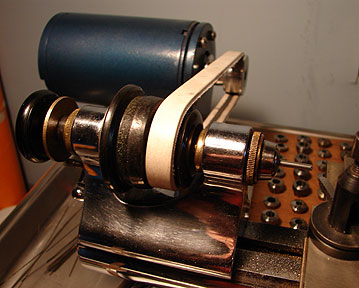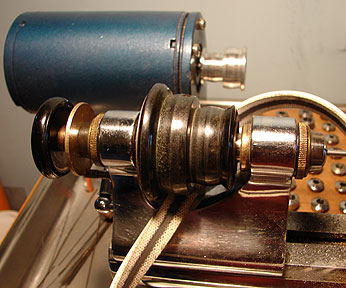 The two steps of both the motor pulley and headstock pulley may easily be seen here.
The drive belt is a synthetic leather belt.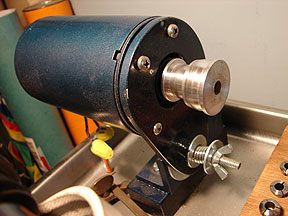 I have mounted the motor so that it may swing back and forth to adjust tension on the belt.
As with most WW lathes, the headstock is set up for indexing.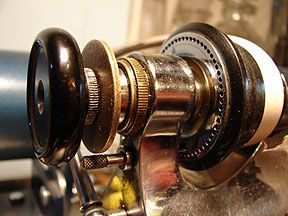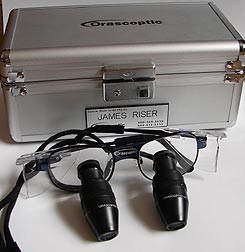 I use these custom made loupes to see what I am making.
This is what the lathe looks like - ready for action.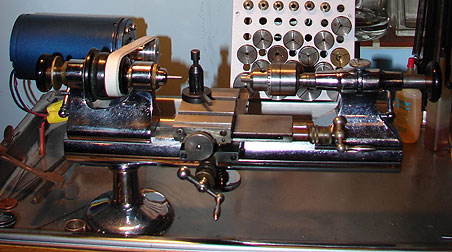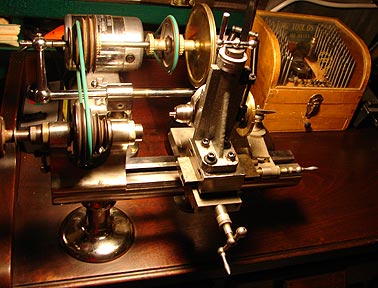 A second WW lathe is dedicated to drilling pinions and milling.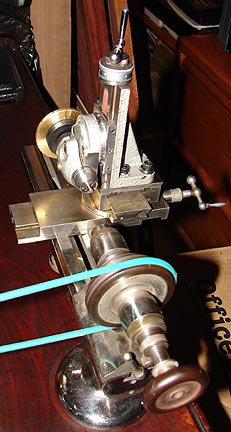 Click here to return to my machinery page.