An Assortment of Lathes
Modified for Metal Spinning
Copyright 2002 by James P. Riser
---
Over the years I have owned and sold a variety of lathes. The lathes shown on this page are some the current selection found in my home shop and help me earn my living. If you own a decent wood lathe, you can spin metal. There is nothing new about this idea since the spinning lathe evolved from the wood lathe. On this page you will see how I have slightly modified a variety of wood lathes for metal spinning.
---
My favorite mini wood lathe is this 9" Record Mini Lathe.

I made the bed extension for wood turning projects. It is not needed for metal spinning. The casting on this mini lathe is rather heavy cast iron and excellent for metal spinning. The tapered toolrest pins are of British design. The currently available assortment of mini and midi wood lathes will all work well for smaller metal spinnings. Record, Jet, Delta, and Vic Mark lathes are all good.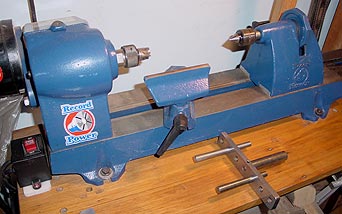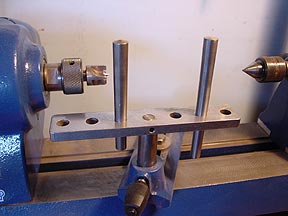 Here it is set up for wood turning
and metal spinning.
This lathe is excellent for spinning
thimbles and candle cups etc.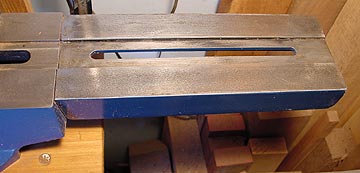 I made the bed extension to give me extra space when drilling.
I use this 12" Delta variable speed lathe for metal spinning and wood turning.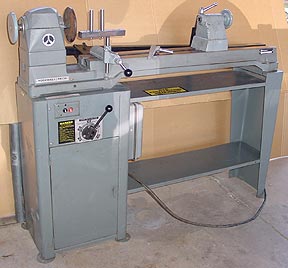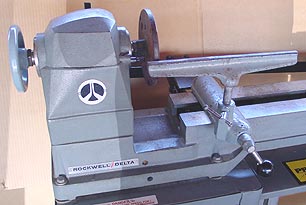 Here it is set up for wood turning...........
..............and for metal spinning.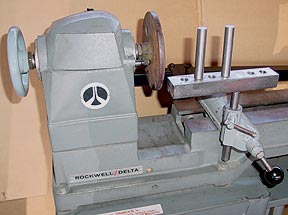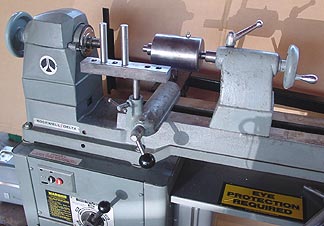 The very heavy duty spinning live center shown here is a May Tools center.
This slightly lighter duty spinning live center is an old Grabo center.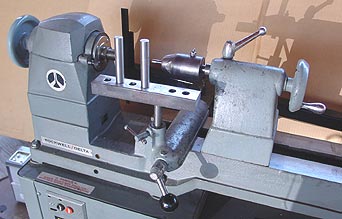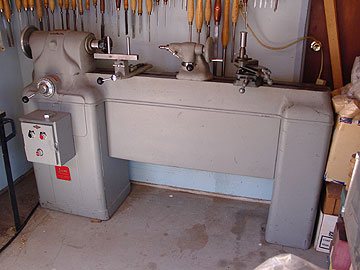 The 12" variable speed J-Line lathe is very heavy duty and designed for both wood turning and metal spinning.
This is my favorite wood lathe - about 650 pounds of stability.
My wood turning center - complete with mess!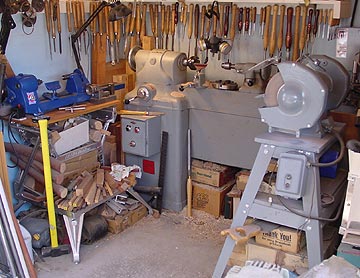 ---
My tool grinder is a 10" Baldor. The wheel on the left is 1" thick and the smoothing wheel on the right is 1 1/2" thick. You will want a nearby grinder to sharpen the wood turning tools for making your spinning chucks.
It is a three phase 1.5 horsepower 1725 rpm 10" grinder (heavy duty).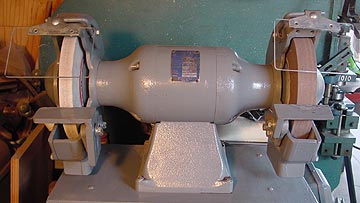 ---
This is what needs to be approximated on a wood turning lathe.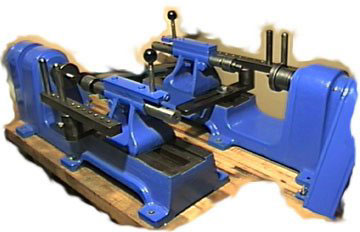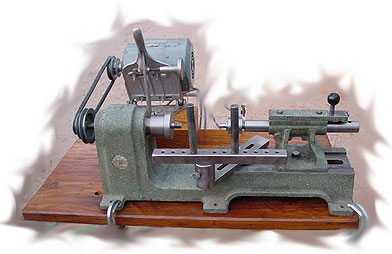 These are Spinmaster or Karle Spin Shop Lathes and are extremely heavy duty. Note the sliding tailstocks.
These are 12" swing spinning lathes.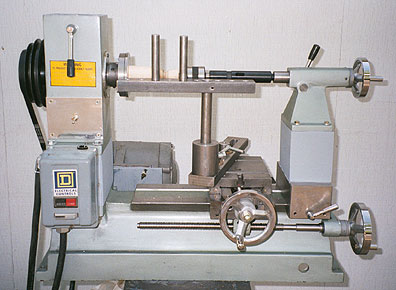 I made this 24" swing spinning lathe from a Chinese 3-in-1 machine.
Instructions and plans for modifying this lathe are on my metal spinning CD-ROM.
It would also make a nice bowl turning lathe for wood turning.