Comparing Various Card Trimmers
Copyright 2011 by James P. Riser
Click here to go to my main magic related web page.
---
Many of the variations of card trimmers produced for the card cheat were without maker's mark or date of manufacture. The trimmer images shown here are from various auctions. This is a very limited selection of my collection of trimmer images sold over the years but enough to illustrate the possibilities of using various features to roughly date such items.
I suggest that dating such card trimmers might be assisted by looking at the features of the individual trimmers. What do you think?
Ivory handles were a common item during a certain date range. These trimmers feature such handles.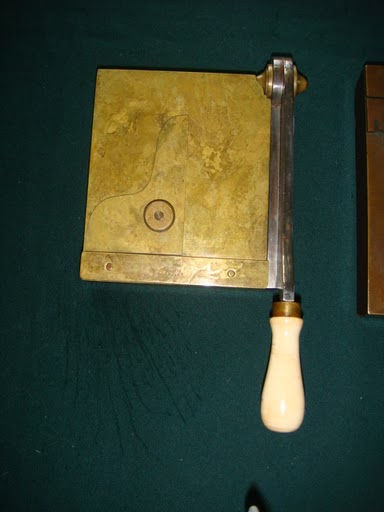 Note that this trimmer does not feature angle adjustment other than by guess.
These two trimmers show different adjustments.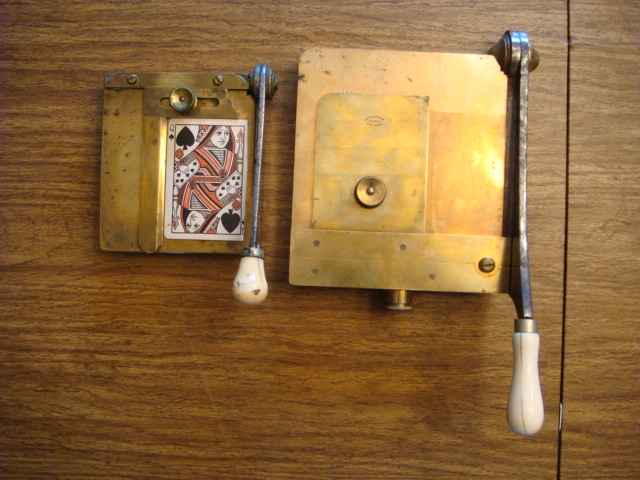 The ivory handled trimmer on the right above seems to be one of the earliest examples of controlled angle adjustment.
Here is another ivory handled trimmer.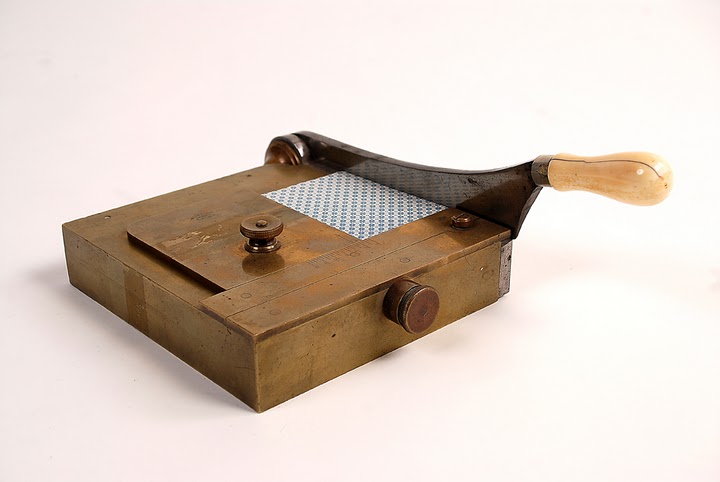 Ebony handles were also common during this same time period and for a number of years after. Notice that adjustments are still rather basic. Perhaps some regions of the world were aware of the improved adjustments before others.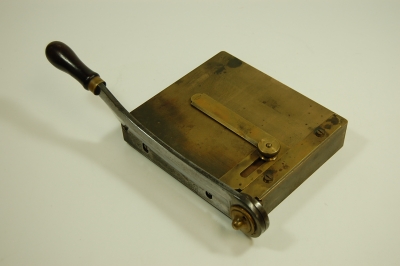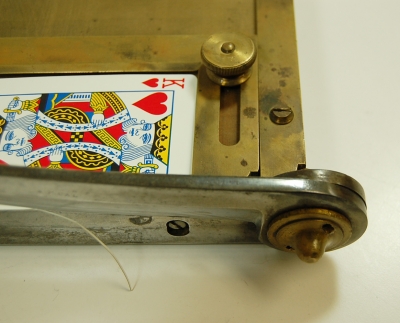 Cast ornamental handles might indicate the country of origin for a specifiic trimmer. Notice that this trimmer allows much better angle adjustment and card width adjustment.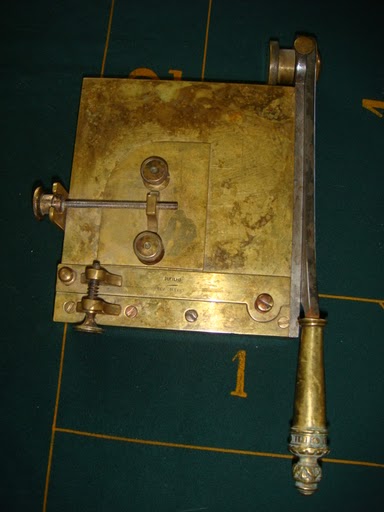 Even this wooden base trimmer allows better adjustments than the ivory or ebony handled trimmers. Such refinements would, to me, indicate a more recent development.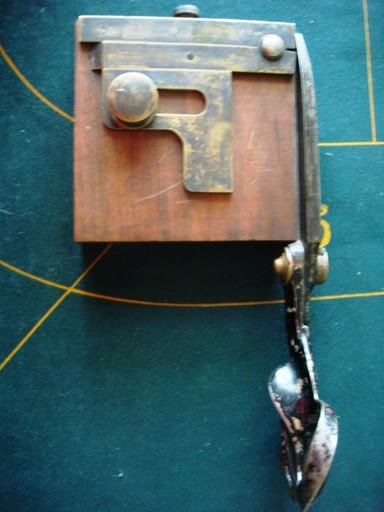 Seen below is another wooden base trimmer - top and bottom.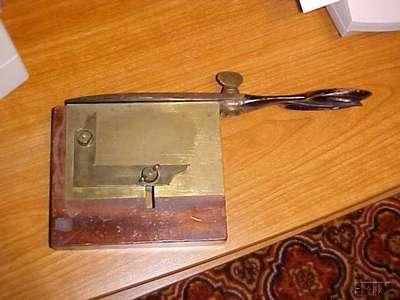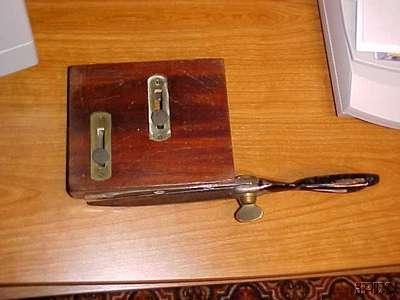 Another wooden base trimmer ...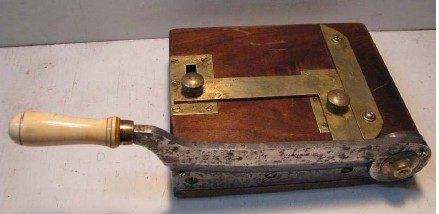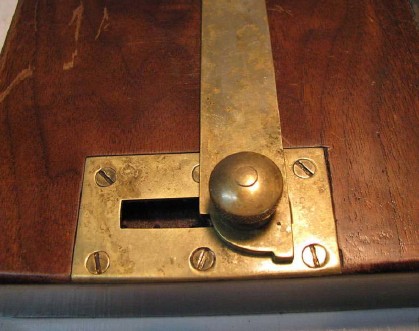 One more wooden base trimmer.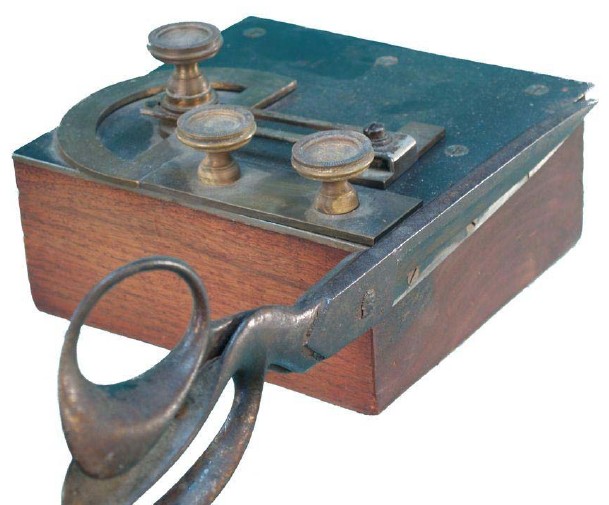 Below is an interesting brass topped wooden based model.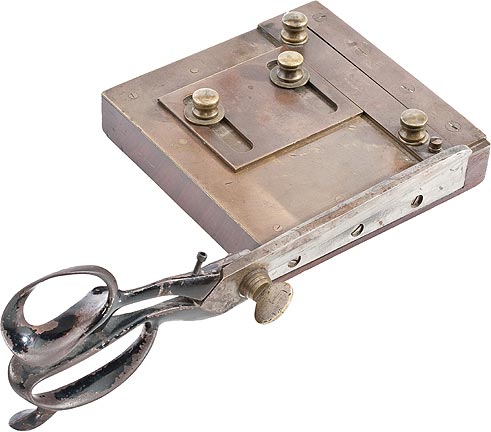 Notice the length of cut adjustment screw on the scissors.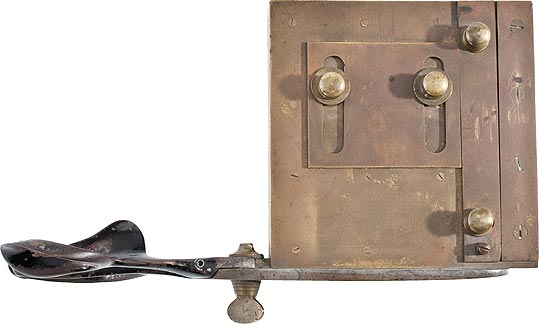 And the bottom showing the brass connector plates for bolt ends.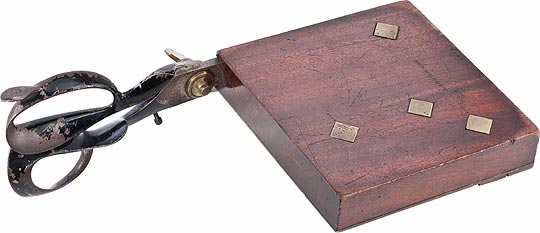 This is a well designed apparently custom made trimmer.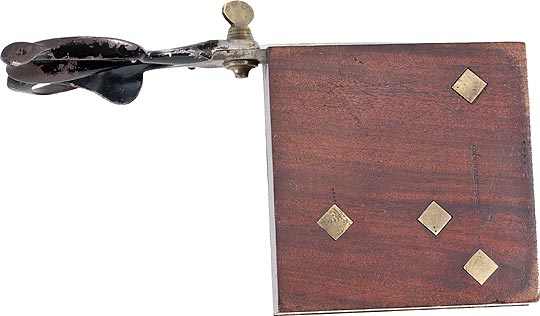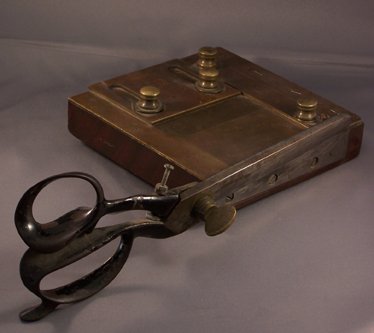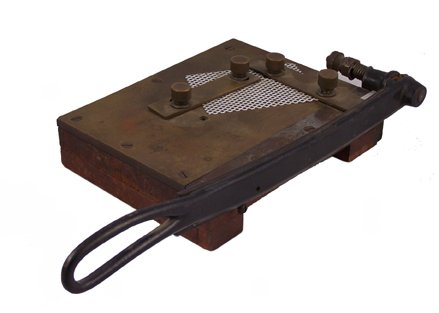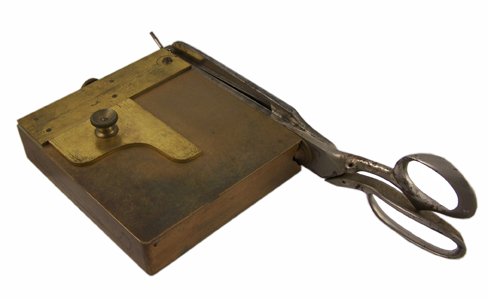 This Mason trimmer seems to have evolved from the previous trimmers but features better construction.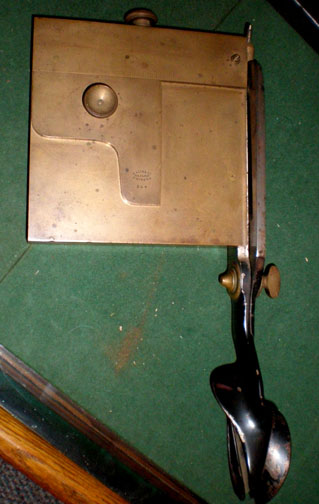 Another Mason trimmer. Do not ask why the owner "cleaned it up".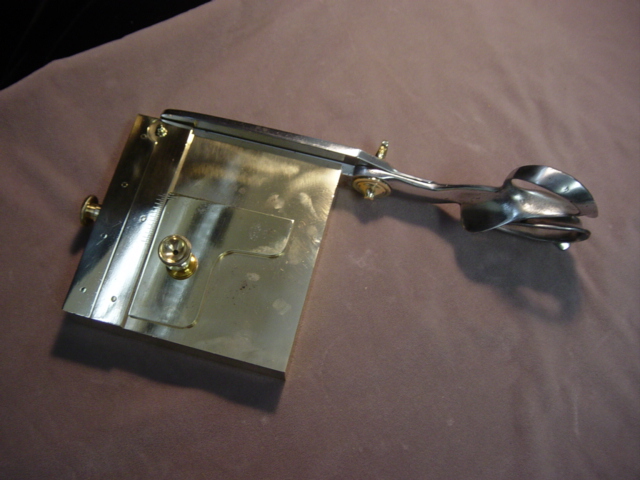 In cleaning it up the owner removed the brass plating to expose the cast iron below. This is interesting. If yours is cast iron under a brass plating, a magnet will let you know.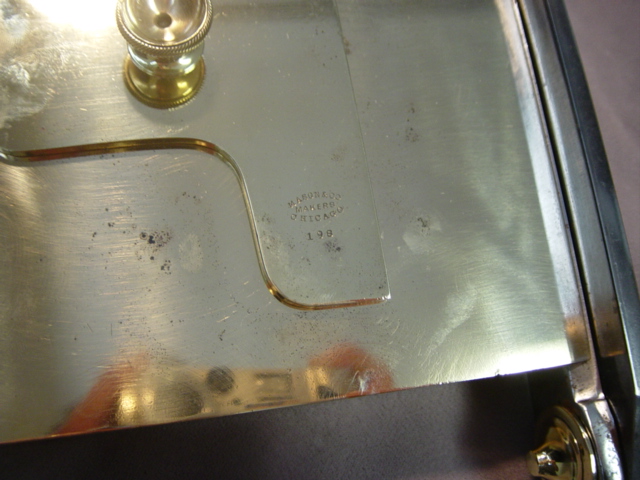 Here is a very similar Will & Finck trimmer from probably the same time period. I do not know which came first.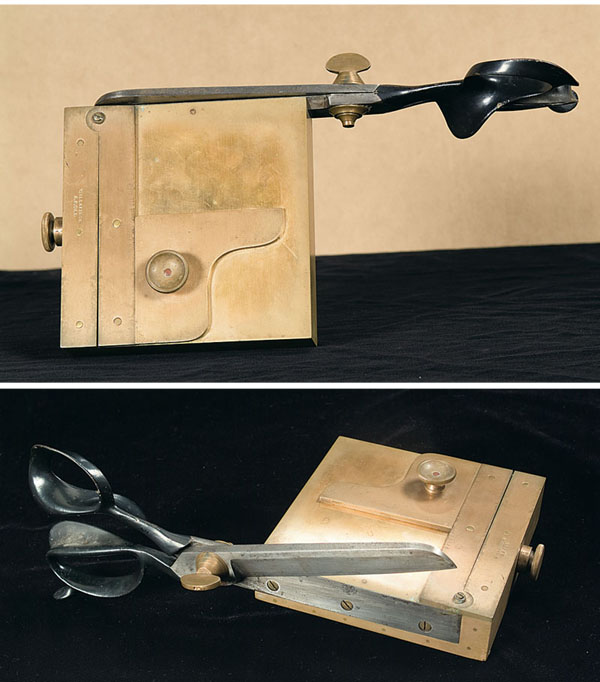 Here is a different view of a similar trimmer.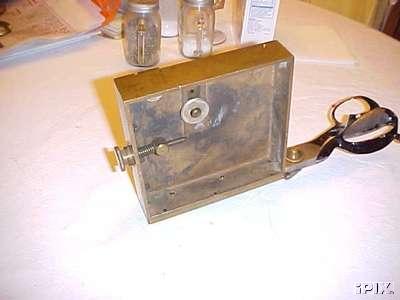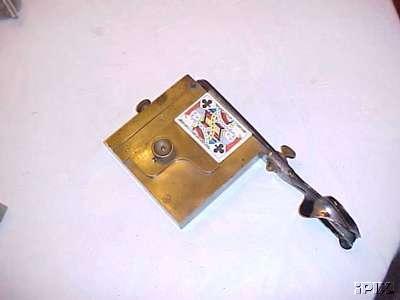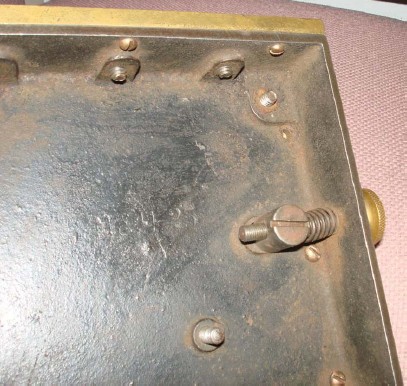 Some bases are built up from pieces of solid brass to create the hollow block. Others are of cast iron - also hollow. Wooden bases are likely to be a solid block of hardwood.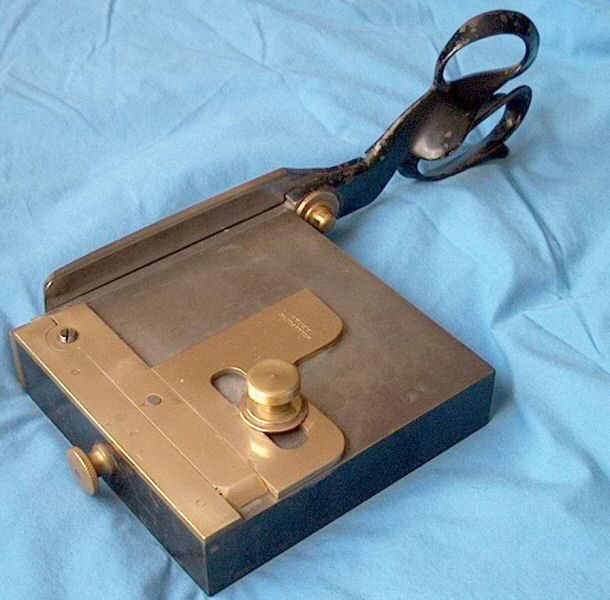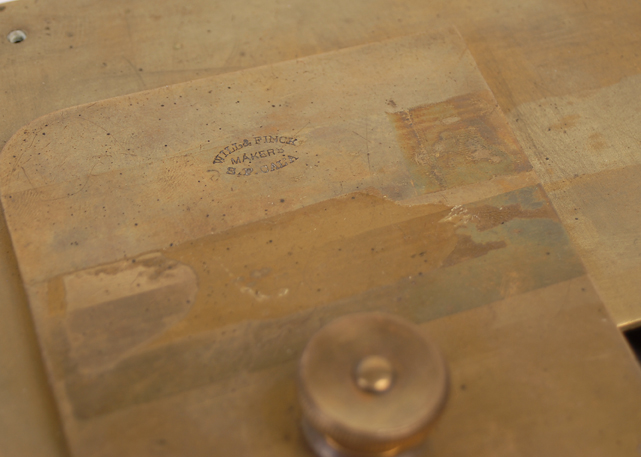 Will & Finck did not always use the same stamp.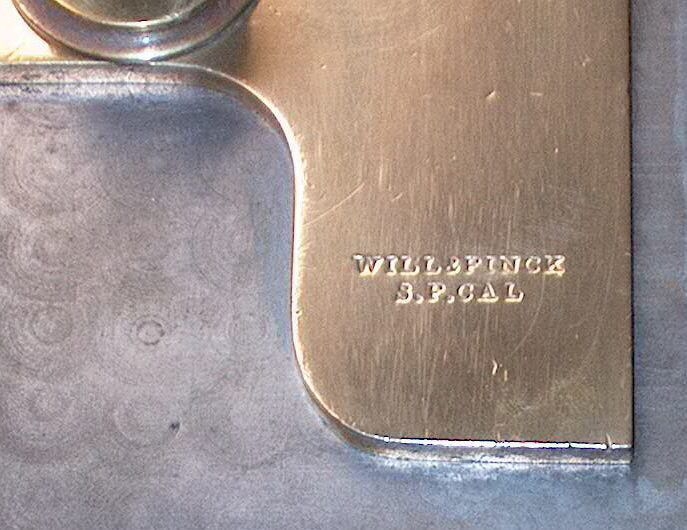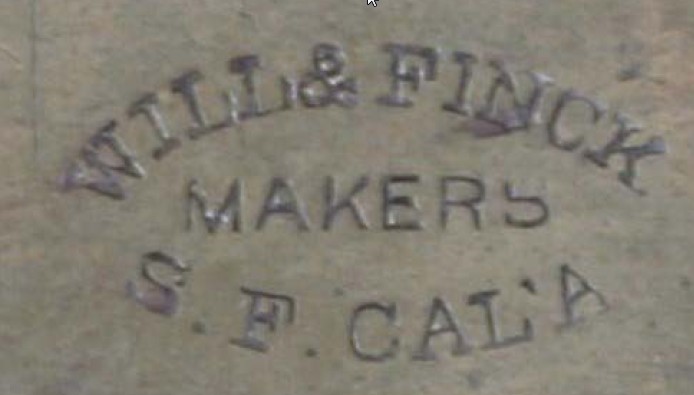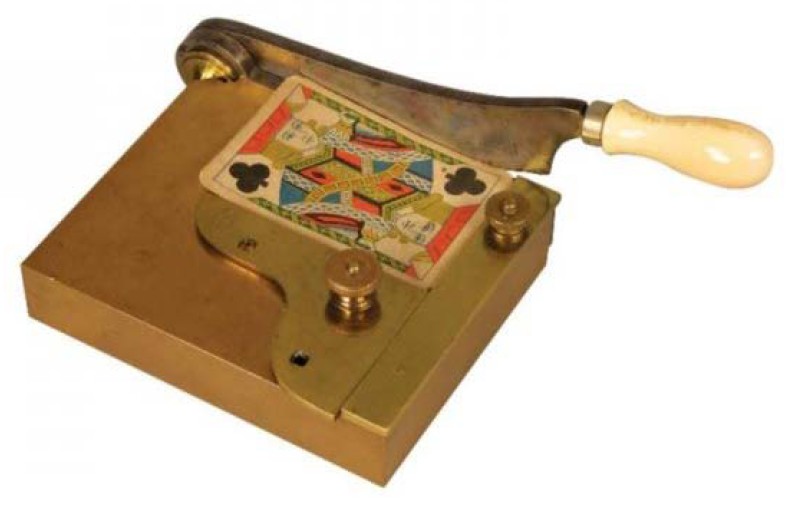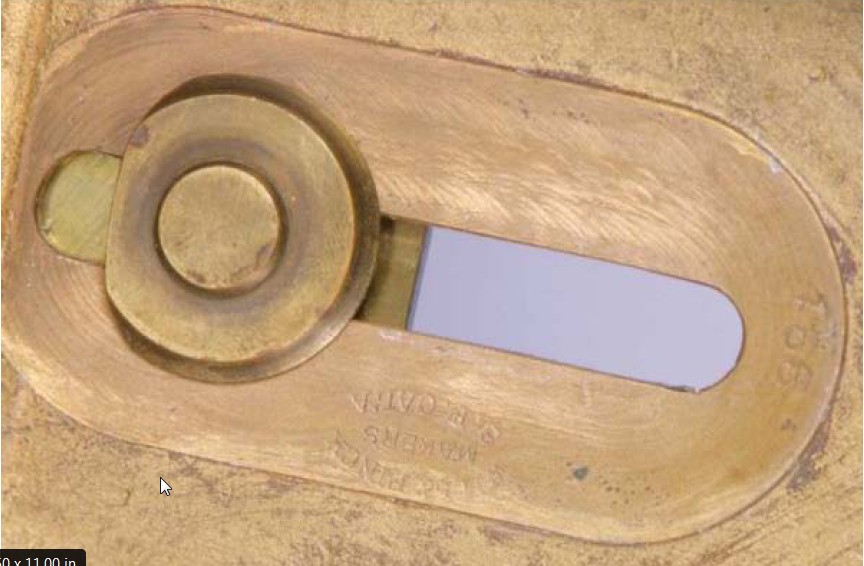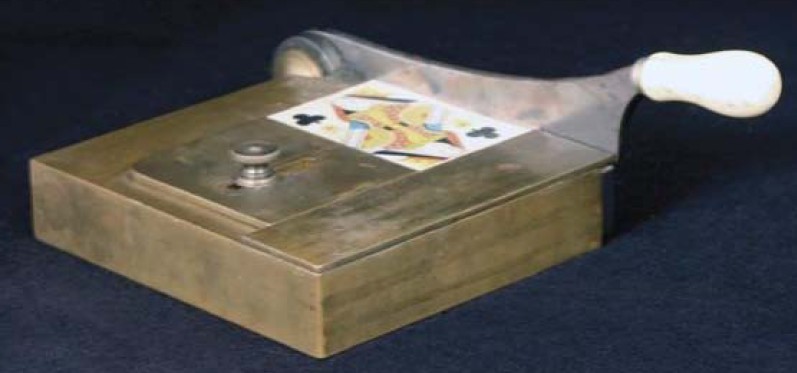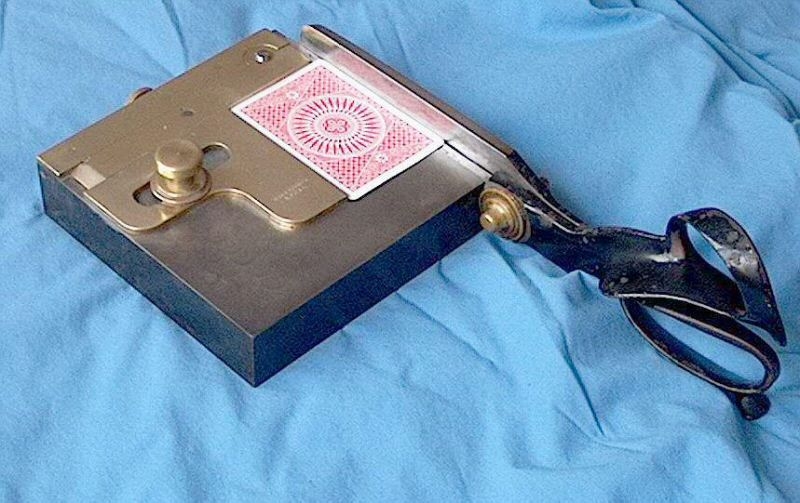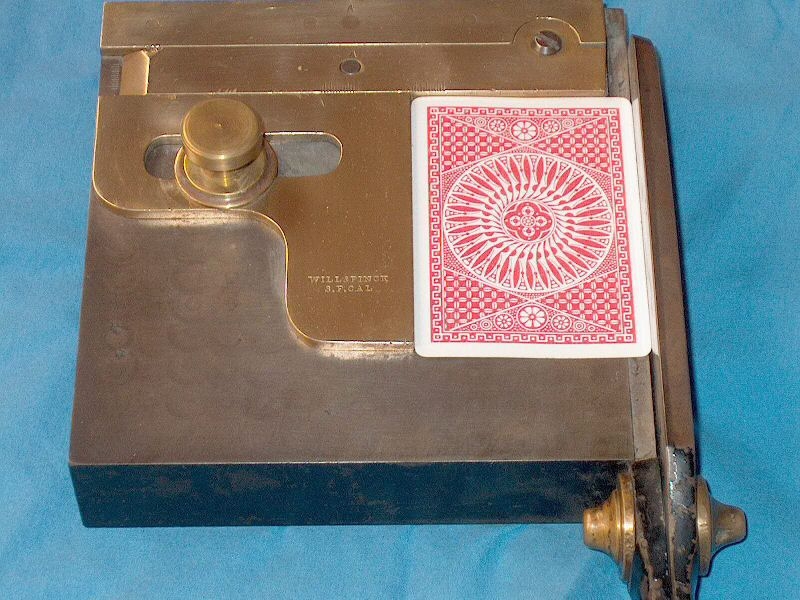 See the maker's mark?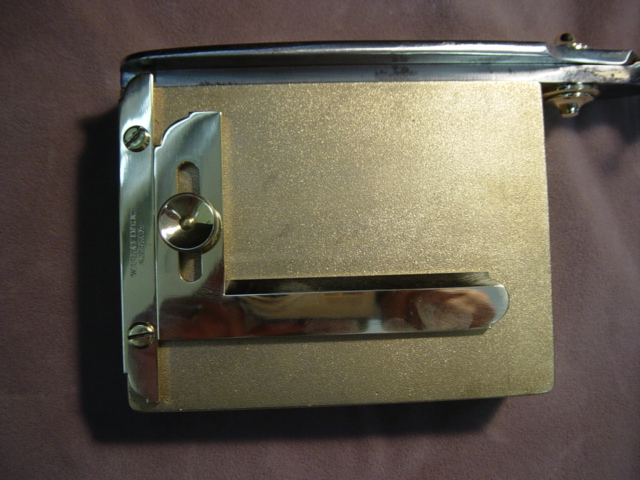 Below is another Will & Finck which is a later refinement of the model as far as the scissors go but a step back as far as adjustments. Such things make precise dating difficult. Perhaps old left over parts were used or they were offering several price ranges/features as options. I have no idea why the base was sandblasted. The "cleaning up" on several trimmers by a seller was not a great idea.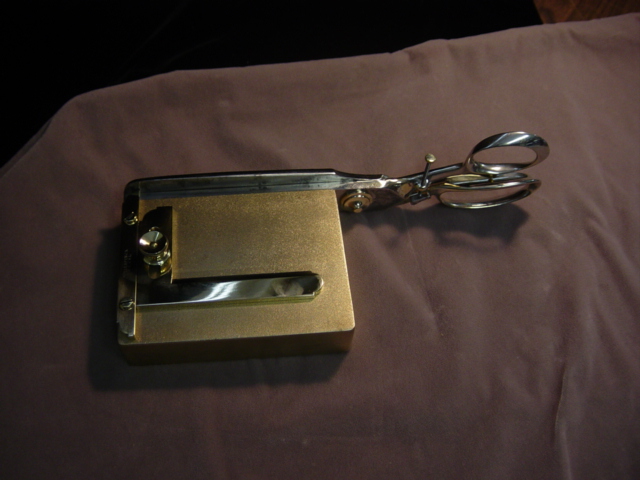 Notice the adjustment screw on the scissors handle. This limits the length of cut. This is a very important refinement. This works like a button hole scissors and serves the same purpose as the length of cut adjustment screw on my trimmer.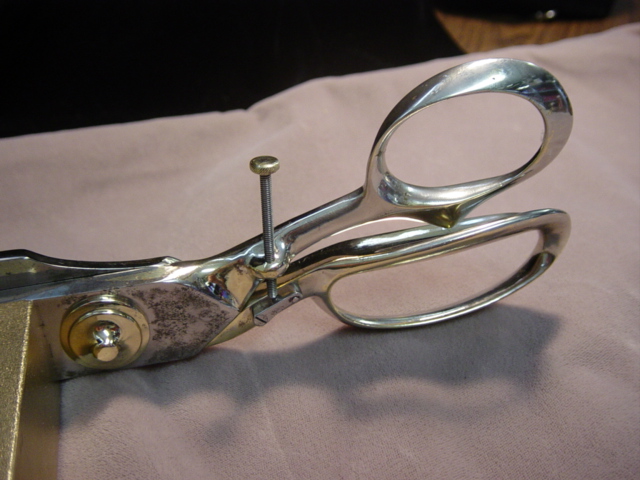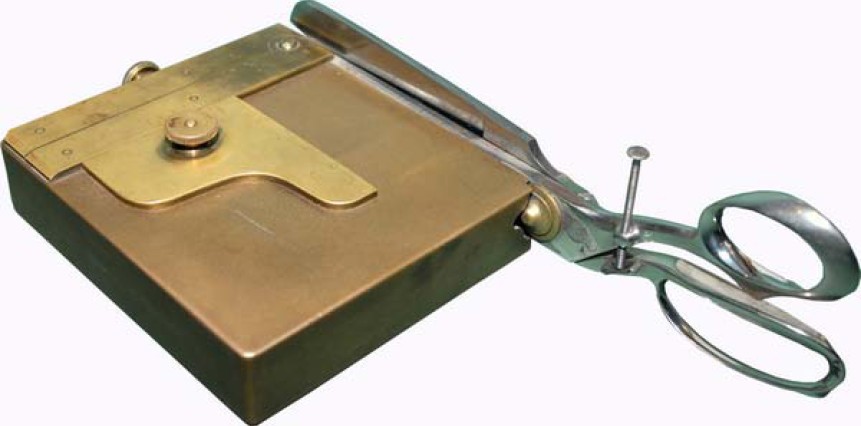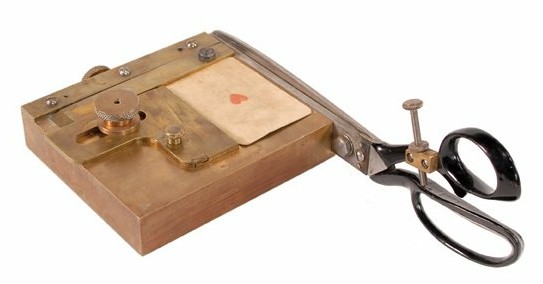 Additional Will & Finck trimmers ...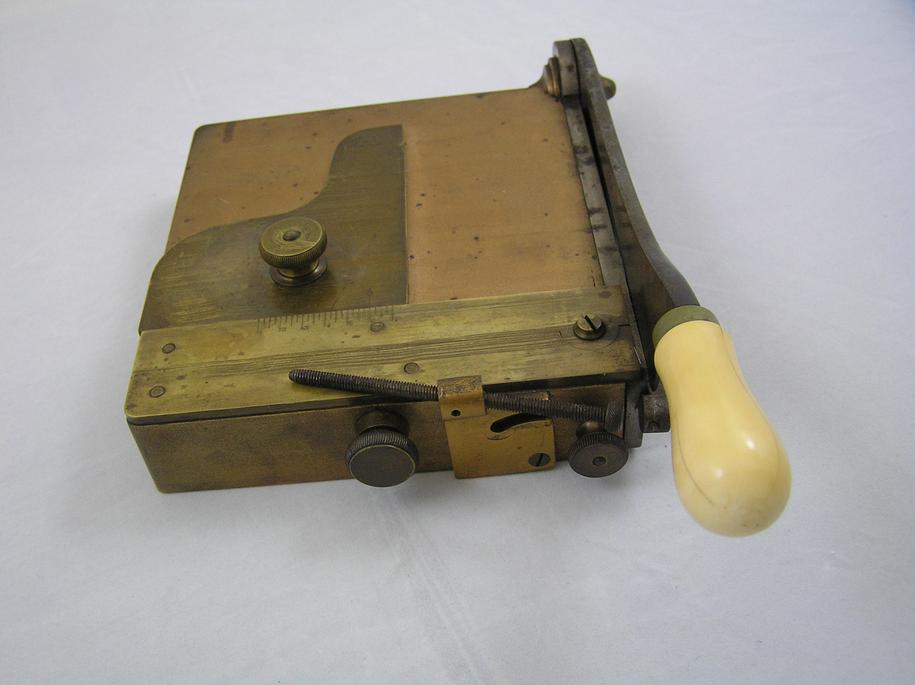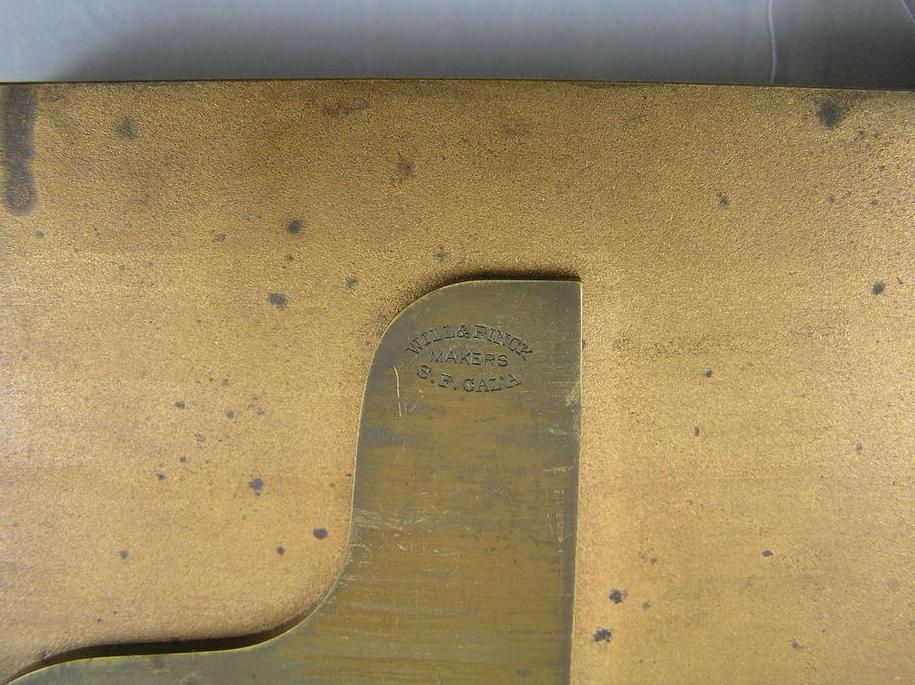 Will & Finck sometimes marked the blade as well as the base.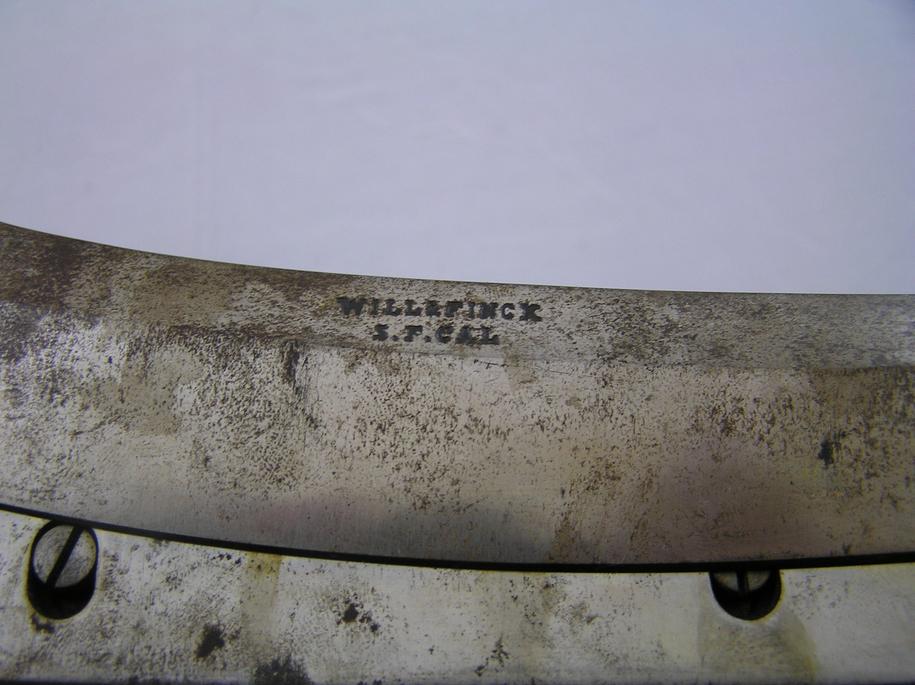 Several Bushey Trimmers ...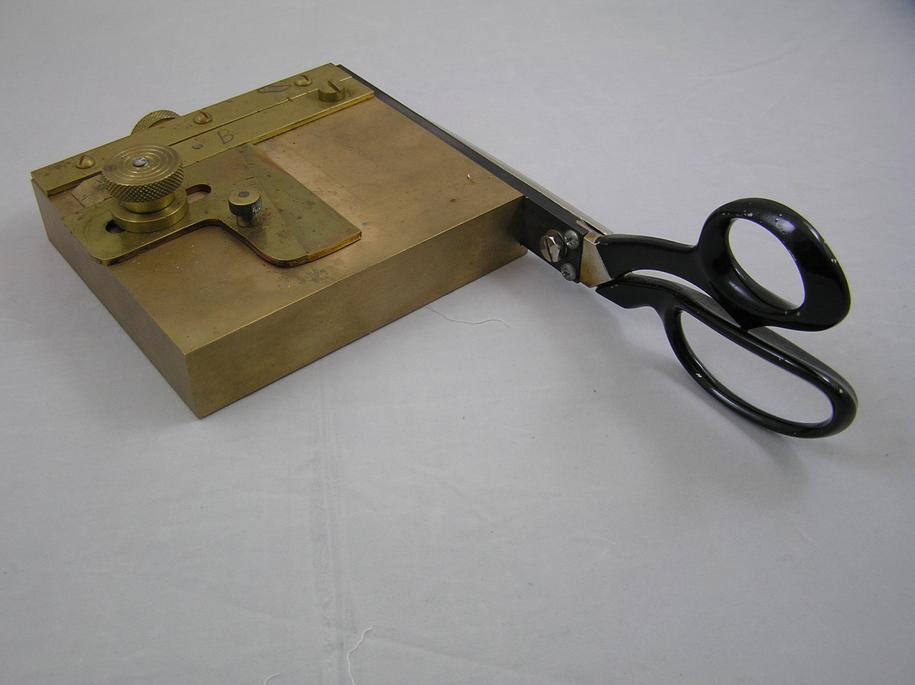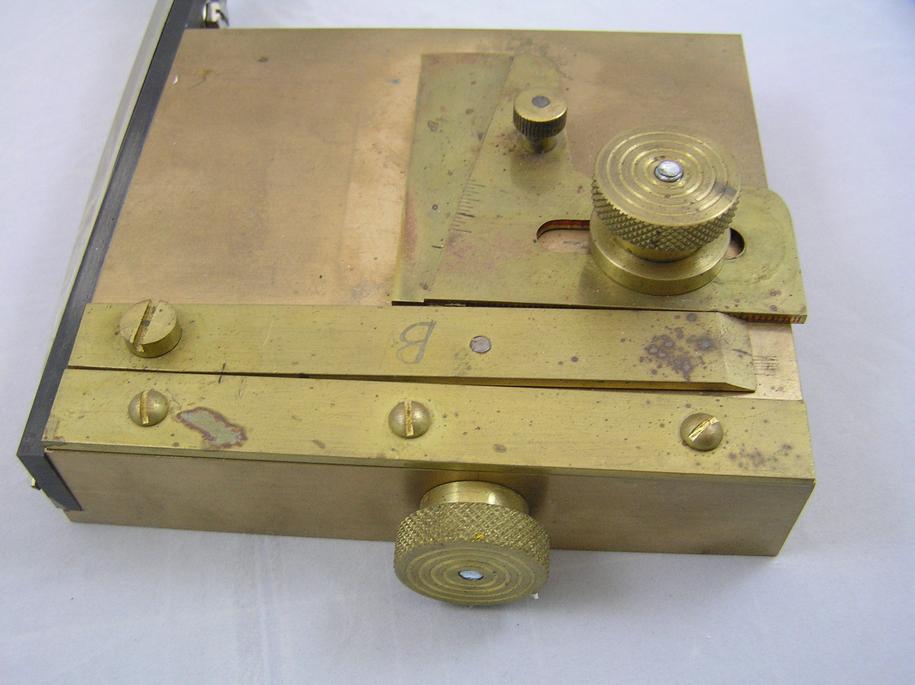 A Bushey Negative Trimmer ...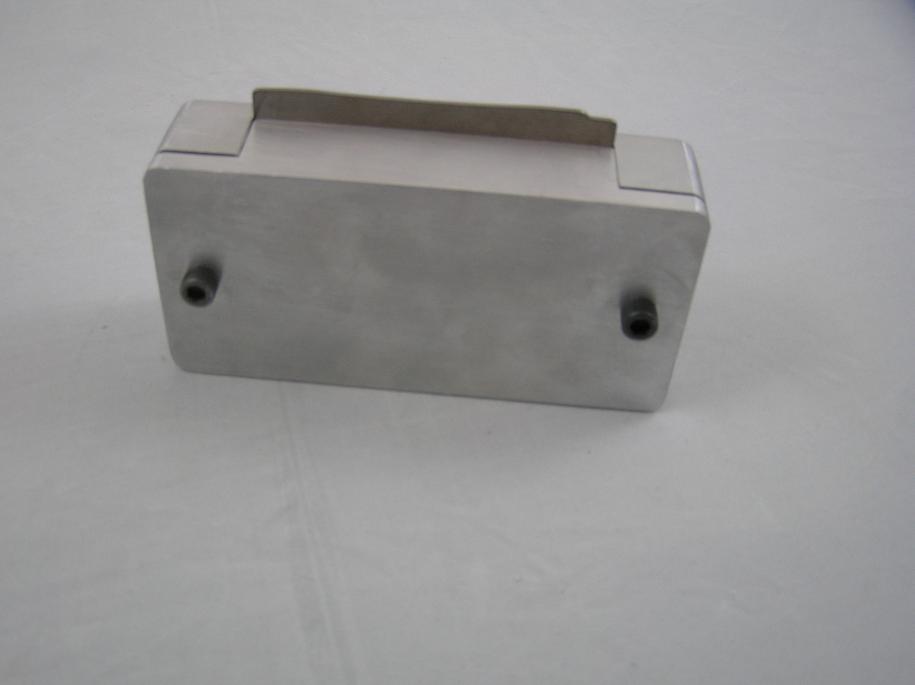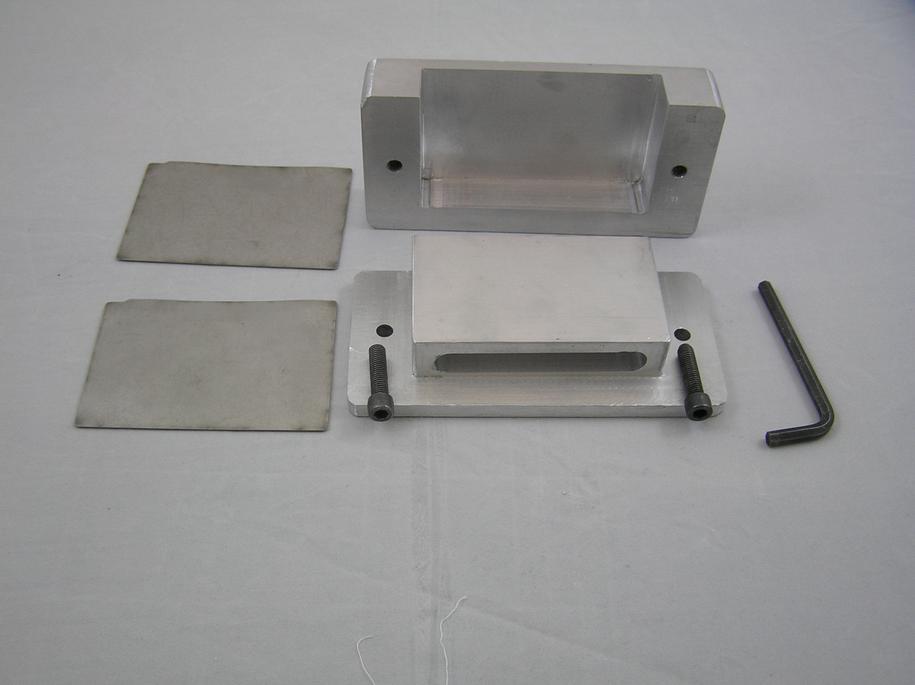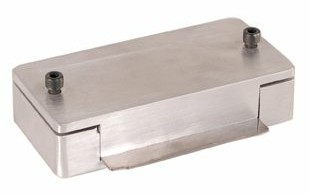 Krieger Trimmers ...
I love the micrometer adjustments on this model.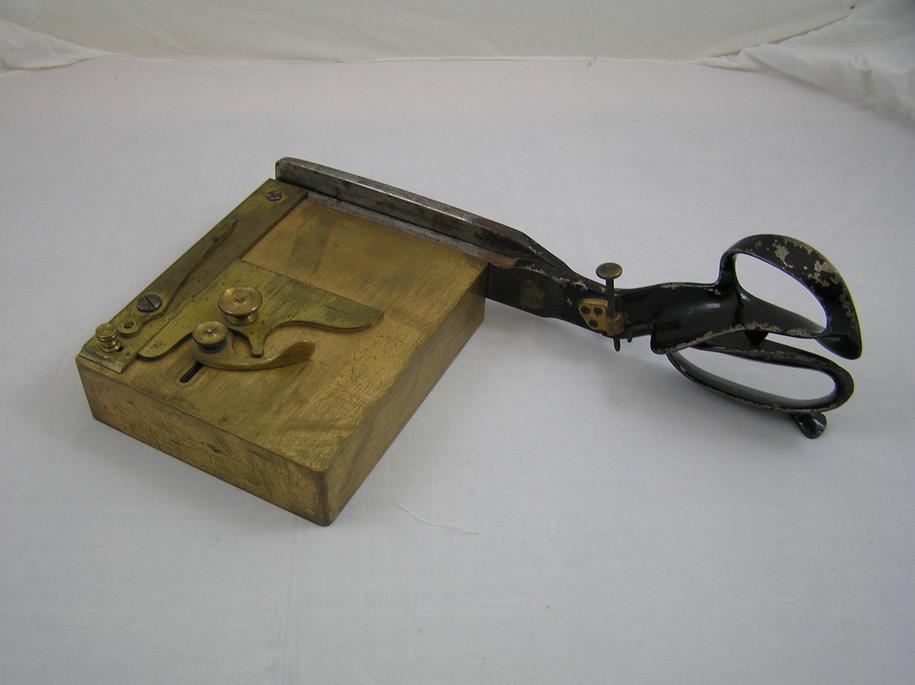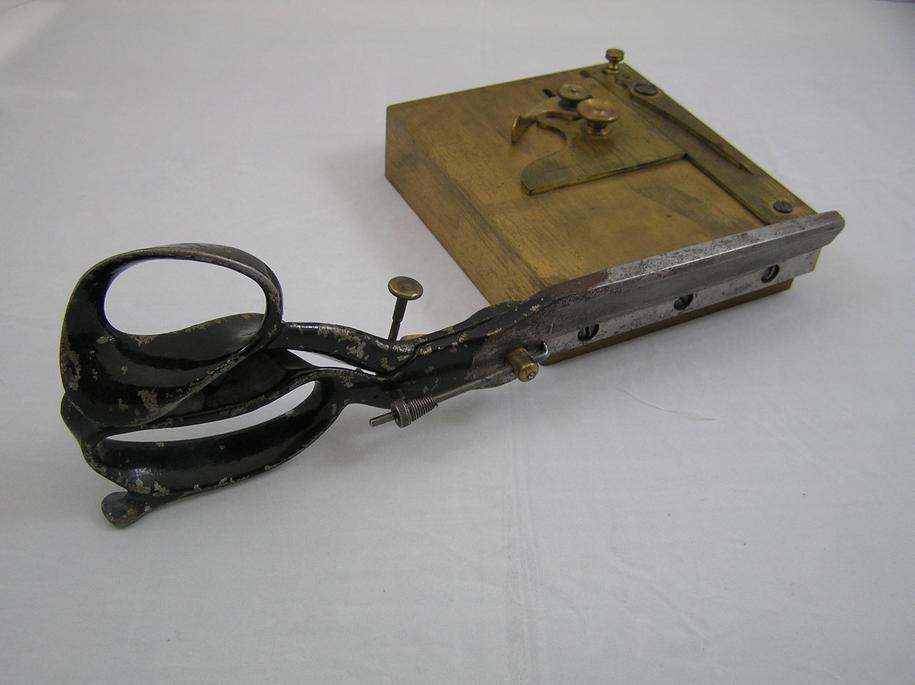 This level of adjustment is about as good as it can get.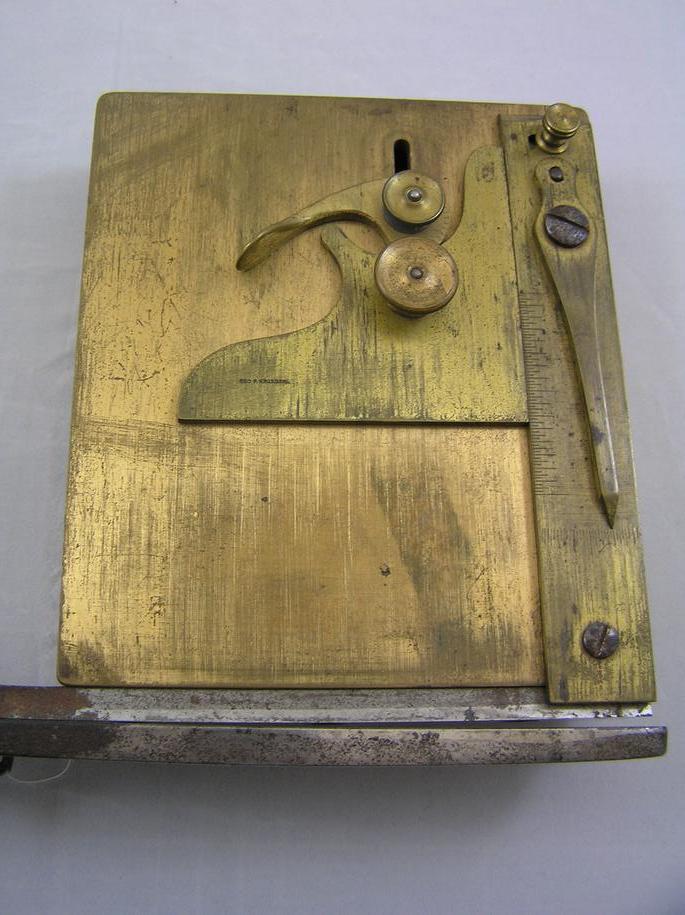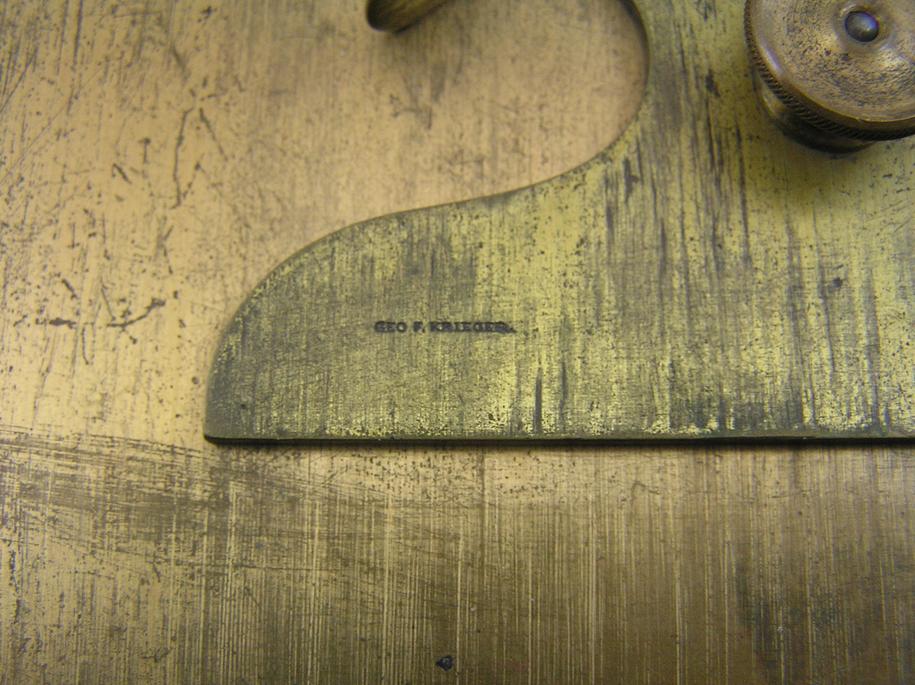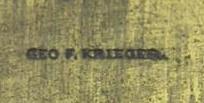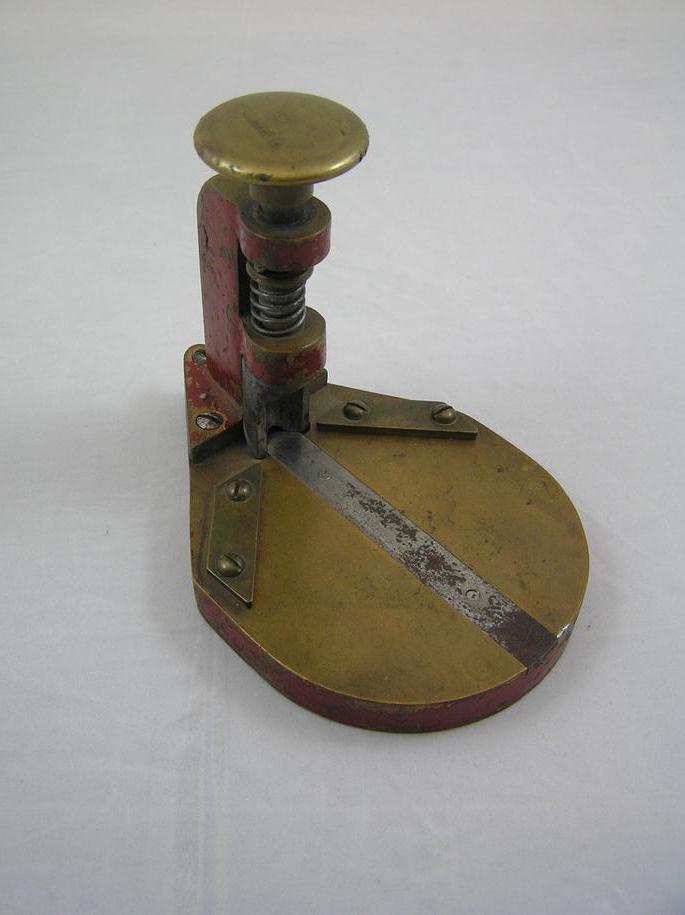 A Dailey trimmer.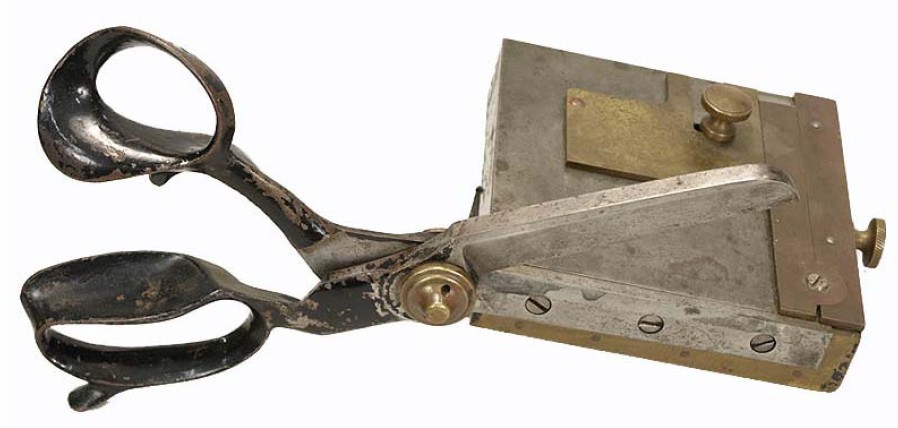 The card trimmer that I own (seen below) seems to be the last refinement in trimmer development until recently. Notice that this trimmer includes a micrometer on the angle adjustment (barely visible here - it is on the bevel) and another for controling the card width. Extremely fine adjustments are possible with this arrangement. In addition, under the end of the scissor tip is a length of cut adjustment screw which allows for making precise concave cuts for a different type of stripper deck. My trimmer set (this trimmer and matching corner rounder) is stamped M&H on the bottom.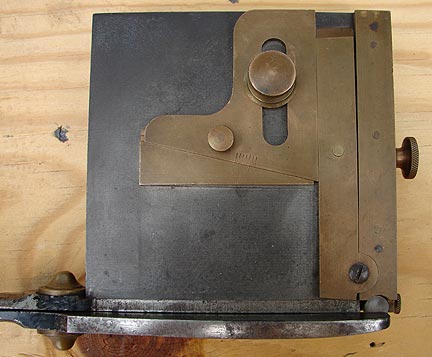 Here are better shots of the length of cut adjustment screw.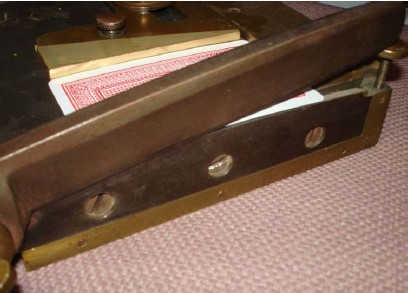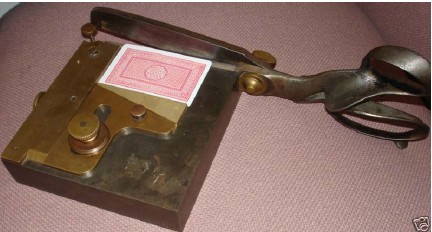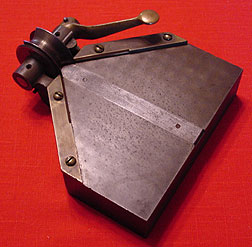 The matching corner rounder.
Note: I am in the process of creating an epub on using this model of trimmer. It should be available this fall sometime - probably sold through Barnes and Nobel. In addition, I will most likely be creating epubs on making your own card trimmer and Kepplinger style holdout.
---
Here is a modern whole new approach to the problem of trimming cards ...
The Stripper Jig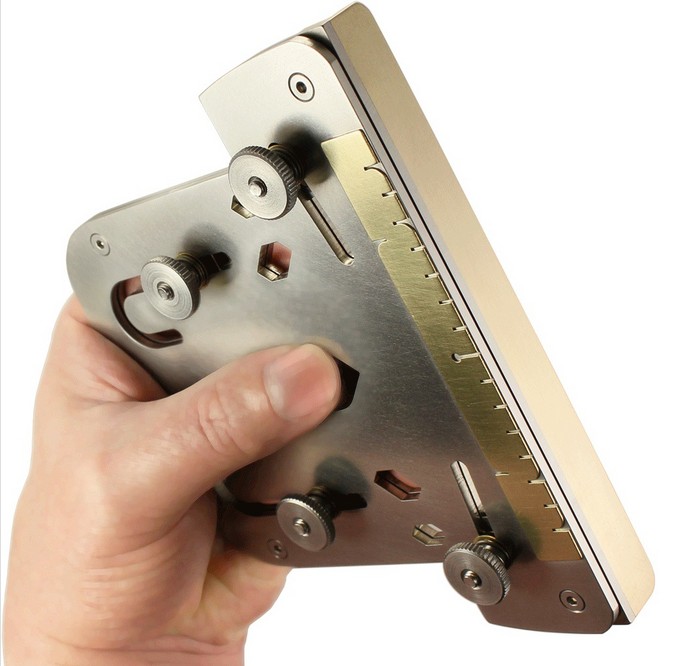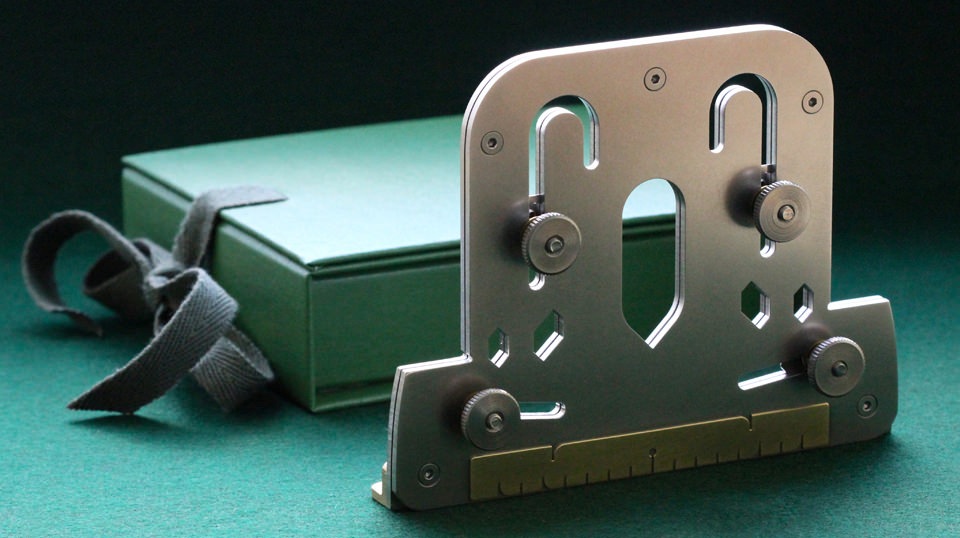 You may see details of the Stripper Jig here.
---
Recently Owen Magic Supreme and Joe Porper have produced card trimmers.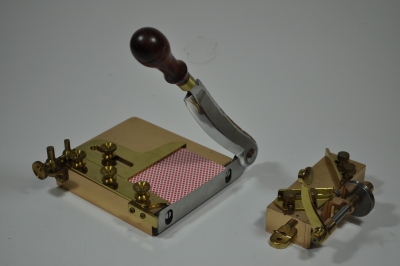 This is the Owen version.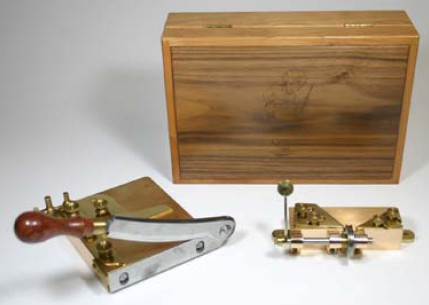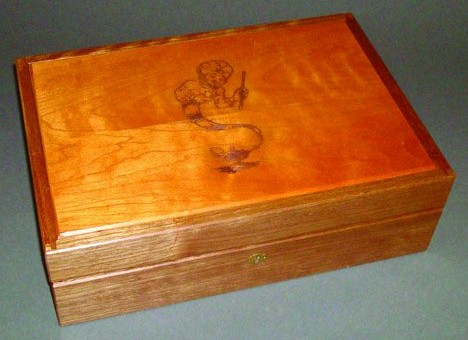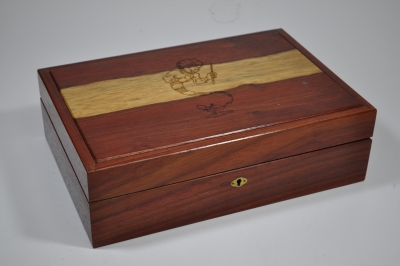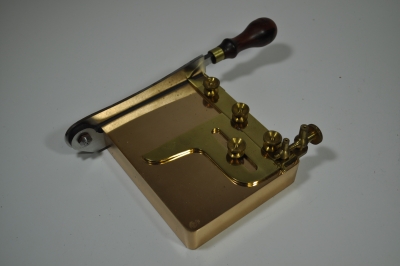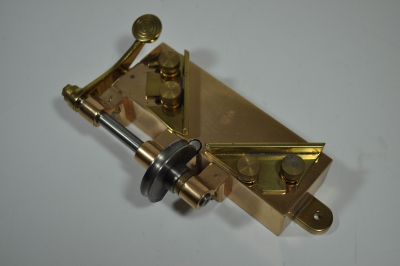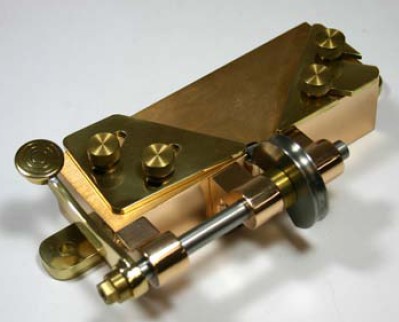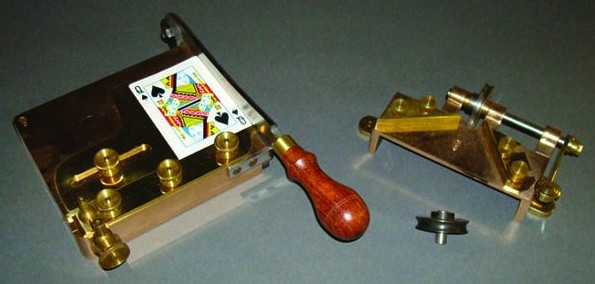 And this is Joe Porper's version.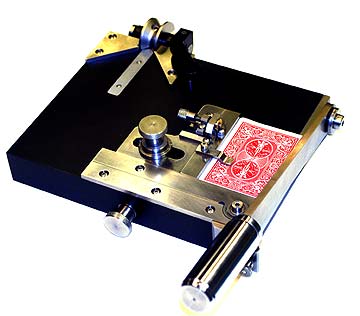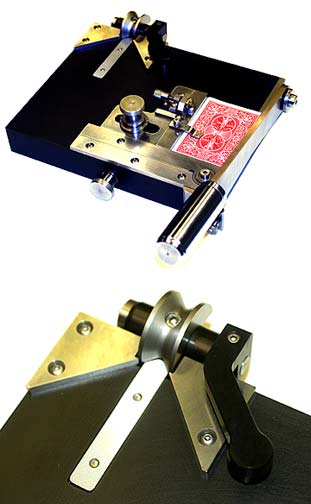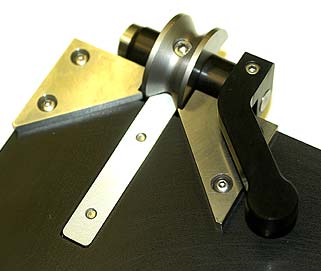 Below is another modern trimmer - maker unknown.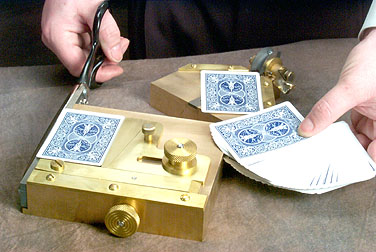 Feedback on dating such goodies is always welcome.
---
Below are several interesting images.
An owner cut up a small machinist rule and added it to this trimmer.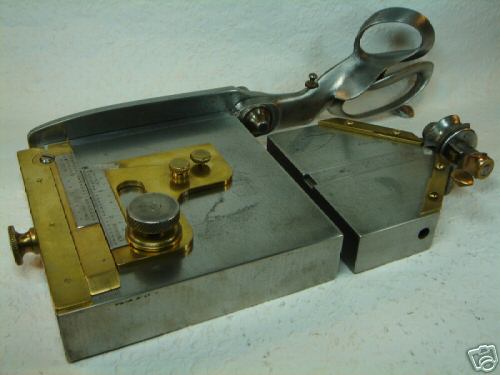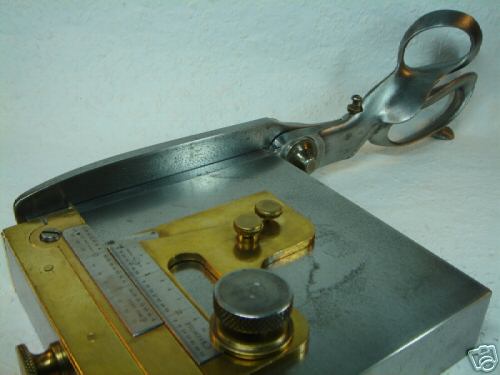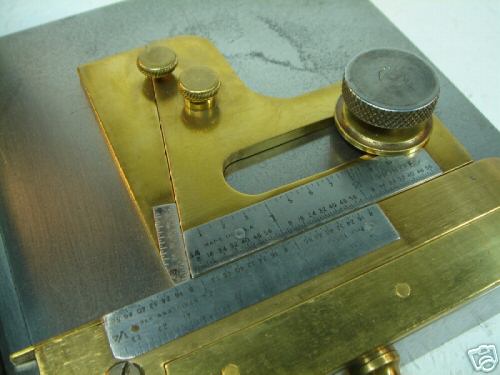 This trimmer has a pressure plate to help prevent a card from buckling during trimming. I suggest that a flat block ceramic magnet would serve the same purpose for those with a cast iron block on their trimmer.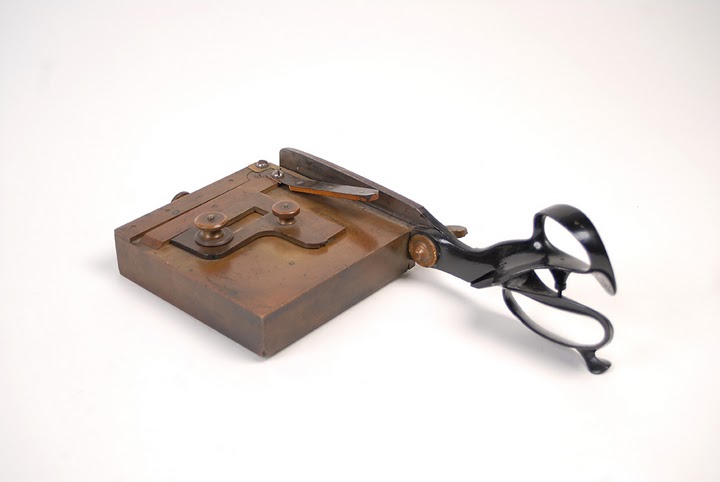 Note the adjustment screw on the handle.
The one on the left below looks home made while the one on the right may not be a card trimmer at all (no adjustment controls).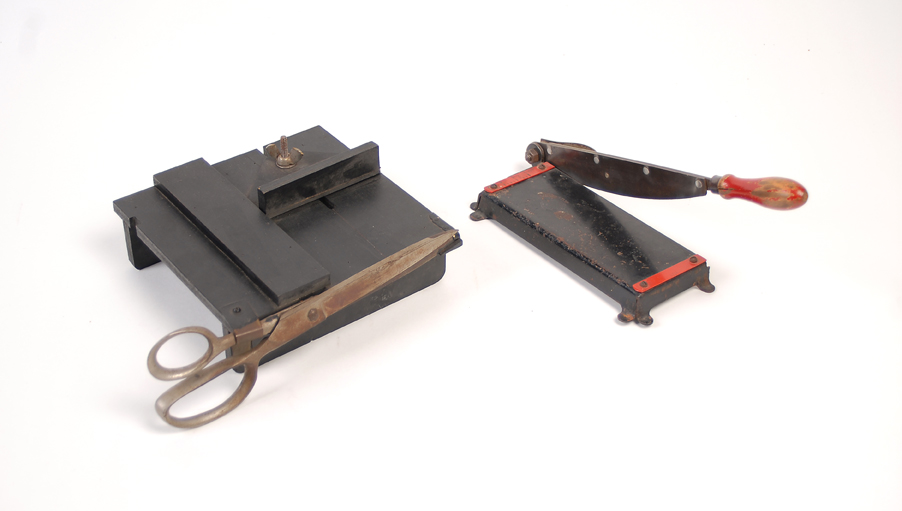 In addition to the above examples, there are many variations in the corner rounders which might also help in dating these devices. Though similar, these two have different lever handles, different bearings, and different guide strips along the top edges.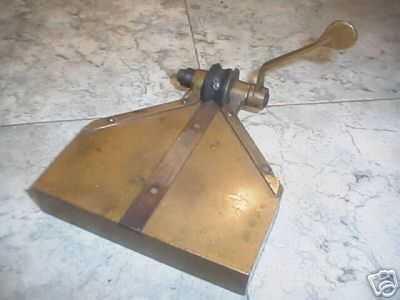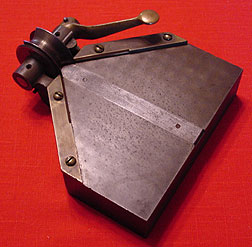 And here is a different spring mounting.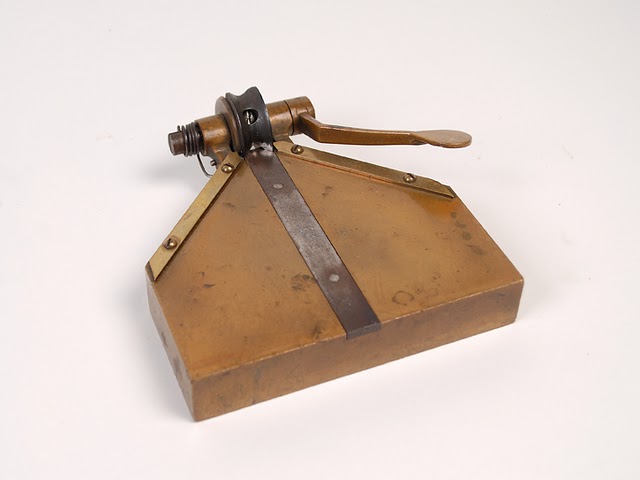 The corner rounder on the right below is a Will & Finck.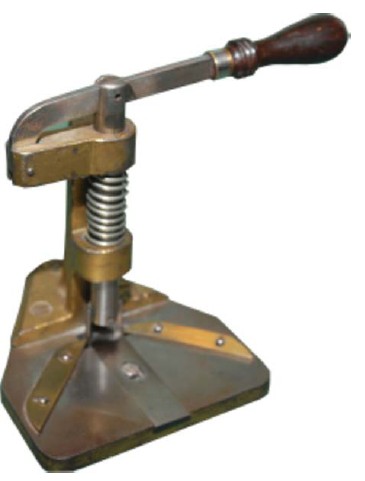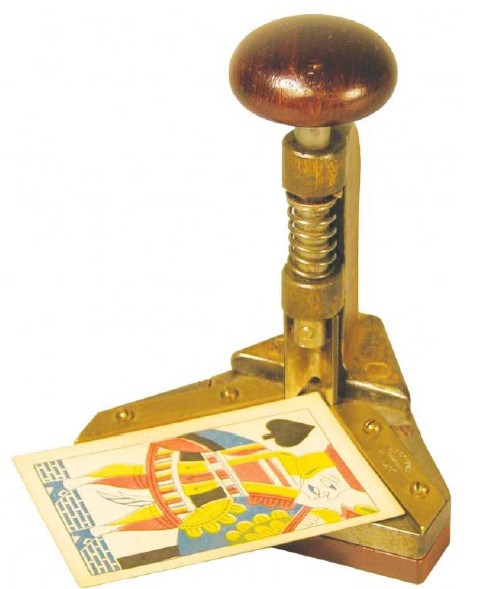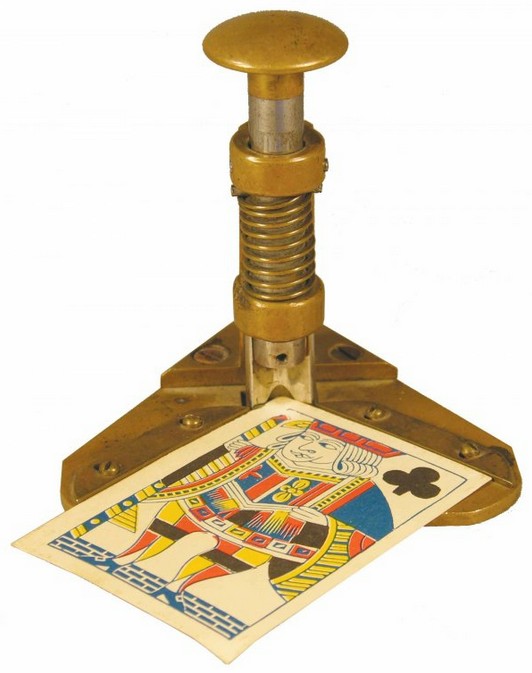 A George Mason corner rounder.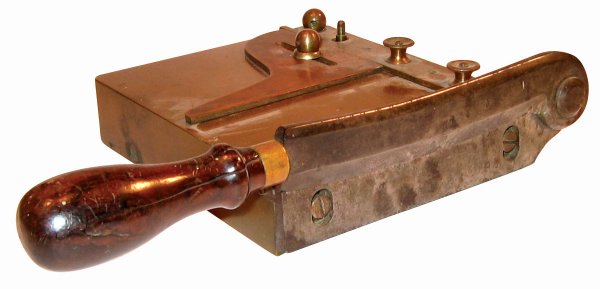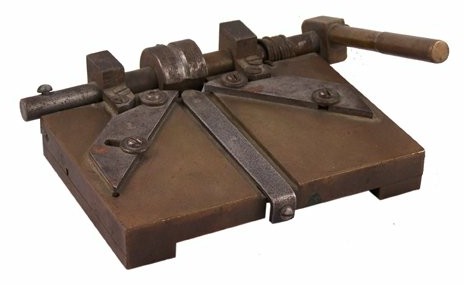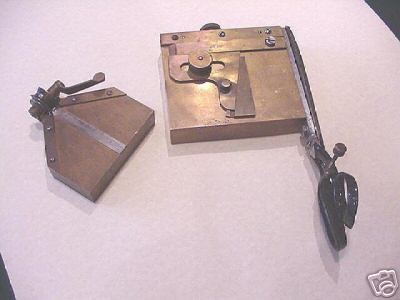 Since some trimmers are marked and some not but seem to use common parts (scissors/base block), I wonder if makers supplied unmarked trimmers to various gambler's supply houses that they could claim as their own. Such marketing has been going on for a long time and may have been done with card trimmers. A study of the Graham company and exactly how they fit into this picture would be interesting as they appear to have been such a supplier.
More to come.......
If you want to make your own inexpensive card trimmer, click here.